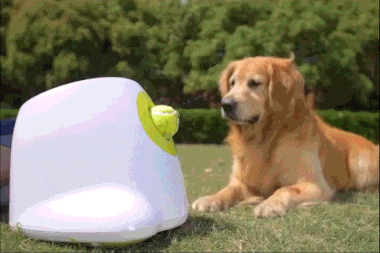 ✅  STIMULATE DOGS MIND automatic ball launcher challenging them to learn something new. Plays fetch with your dog, interactive features aid in training.
✅  ADJUSTABLE DISTANCE SETTING make it throw 10ft, 20ft or 30ft. Great training tool for both older dogs and as a way to tire out energetic puppies.
✅  ENTERTAIN & EXERCISE your pet indoors and outside with the all for paws automatic fetch ball launcher, this is the premium choice in automatic fetch games.
✅  MONEY BACK GUARANTEED—If you are not satisfied with it for any reason, please contact us as soon as possible, we will refund you.
✅  BALL LAUNCHER INCLUDES three standard tennis balls, ideal for a game of fetch. Works with 6 pcs C batteries ( not included ), or with AC adapter (included).
How to use:
push the "power on /off button" for 3 seconds to turn the FetchMe Mini on.

the "power on/off indicator" (green light) will turn on. To turn off the FetchMe Mini, push the "power on/off button" for another 3 seconds.

press "power on/off button" to choose the distance 10ft, 20ft or 30ft.

put the balls in the ball basket on the top of the FetchMe Mini.

when balls are placed into the ball basket, the FetchMe Mini will throw a ball every 10 seconds.

remarks There is a tennis ball sensor in the toy. It will scan every 10 seconds. Once detecting the ball, it will trigger the launch system to launch the ball out.
Note : There is a rotor to throw a ball inside this machine so bit noise of rotor is expected. Ball are made for this machine specifically of size 5cm which you can buy from after market or here too!