EKSA H1 Wireless #1 Best bluetooth headset for truckers Headphones with Mic ENC Environmental Noise Cancelling Headphones Bluetooth Headset for Call Center Headset for Trucker
The EKSA H1/H1 Plus Wireless Headset is an excellent choice for truck drivers, call centers, and production workshops, with its latest Bluetooth 5.0 chip technology. The headset is equipped with a 500mAh lithium battery, allowing you to enjoy 57 hours of music playback time or 30 hours of talk time, and it has a range of up to 30m/99ft.
The earcups of this headset are semi-open and made of memory foam material that provides maximum comfort during prolonged use. The H1/H1 Plus features neodymium magnet type with a driver diameter of 40mm, delivering a superior sound quality experience. With an impedance range of up to 32 Ω, you can enjoy uninterrupted music or call conversations.
The H1/H1 Plus also features an active noise-cancelling function, making it perfect for noisy environments such as construction sites. It also has a dual connection feature, allowing you to connect two devices simultaneously. The headset is wireless and has a Bluetooth range of up to 30m/99ft.
The headset has volume control and mute buttons, allowing you to adjust the volume and mute the microphone easily. It is also certified with CE standards and made of durable plastic material. The H1 Plus version comes with an additional USB Bluetooth transmitter and a set of spare ear pads made of cloth.
In summary, the EKSA H1/H1 Plus Wireless Headset is an ideal choice for truck drivers, call centers, and production workshops, with its excellent sound quality, noise-cancelling technology, and long battery life. It is comfortable to wear, easy to use, and a perfect solution for those who need to stay connected while working in a noisy environment.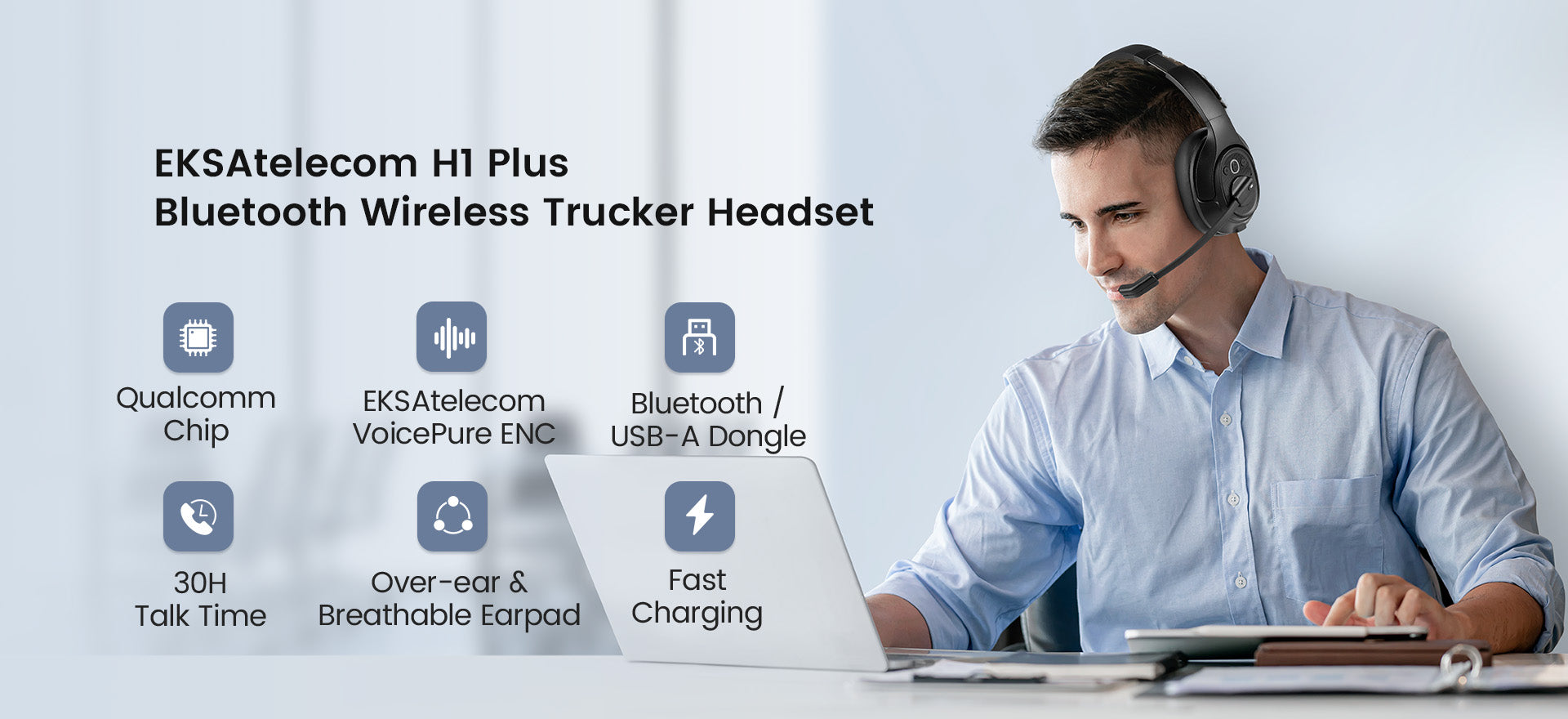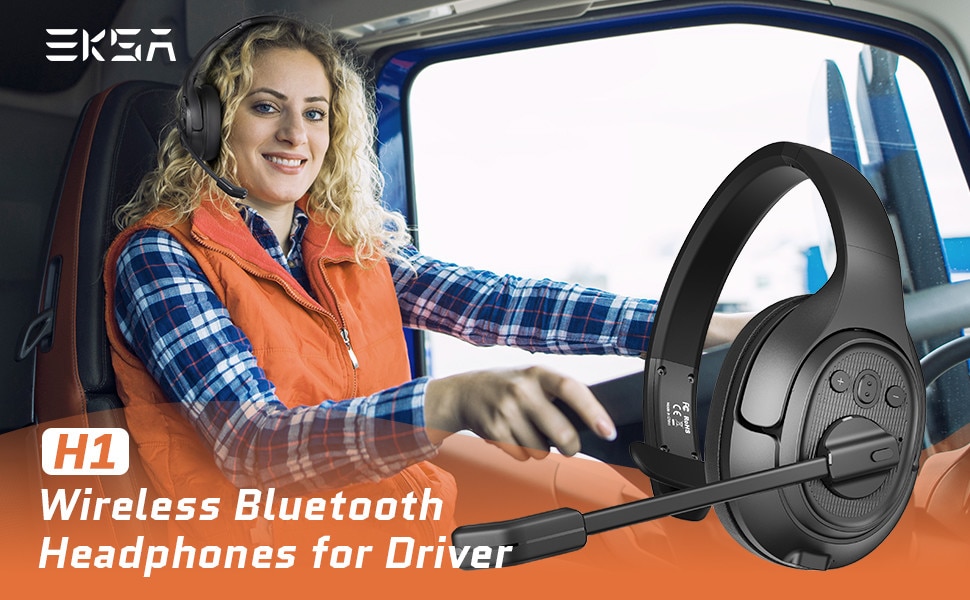 H1 / H1 Plus Specifications
| | |
| --- | --- |
| Bluetooth version | Bluetooth 5.0 |
| Bluetooth range | 30 meters |
| Talk time | 30 hours |
| Music time | 57 hours |
| Charging time | 1.5 hours |
| Standby time | 165 hours |
| Driver diameter | 40 mm |
| | |
| --- | --- |
| Driver impedance | 32 Ω ± 15% |
| Driver frequency | 20 Hz ~ 20 kHz |
| Driver sensitivity | 114 dB ± 3 dB |
| Microphone sensitivity | -25 ± 1 dB |
| Microphone frequency | 100 Hz ~ 10 KHz |
| Microphone orientation | Omnidirectional |
| Noise Cancellation | Environmental Noise Cancellation-ENC |
What is ENC?
ENC (Environmental Noise Cancellation, an environmental noise reduction technology) can effectively suppress 90% of reverse environmental noise, thereby reducing environmental noise by up to 35dB or more, allowing users to communicate more freely. Through the dual-microphone array, the direction of the caller's speech is accurately calculated, and various interfering noises in the environment are removed while protecting the target voice in the main direction.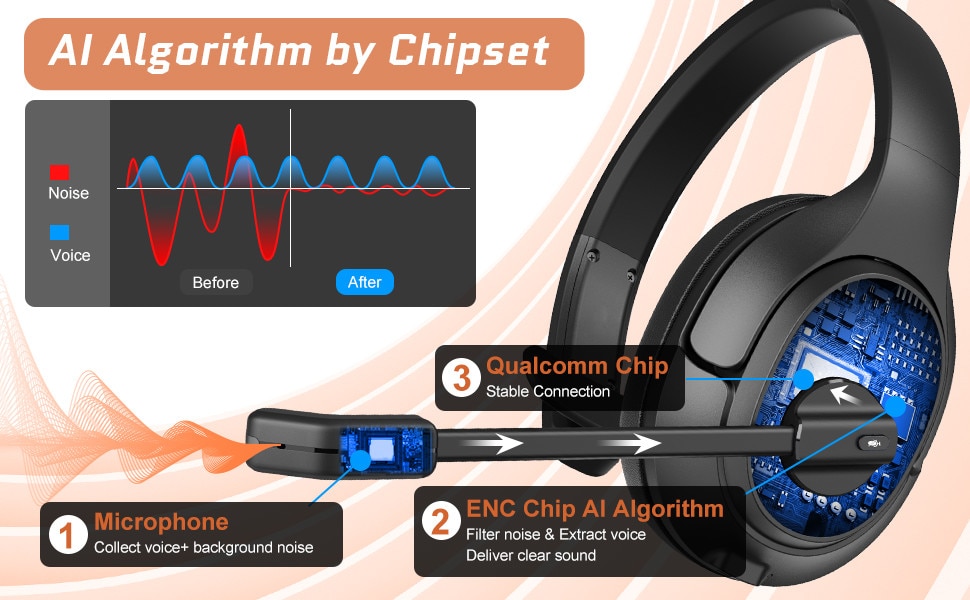 AI-Powered Environmental Noise Cancelling Technology
Adopt intelligent ENC (Environmental Noise Cancellation) technology, which can suppress 99.6% of the reversal environmental noises effectively for clearer communication.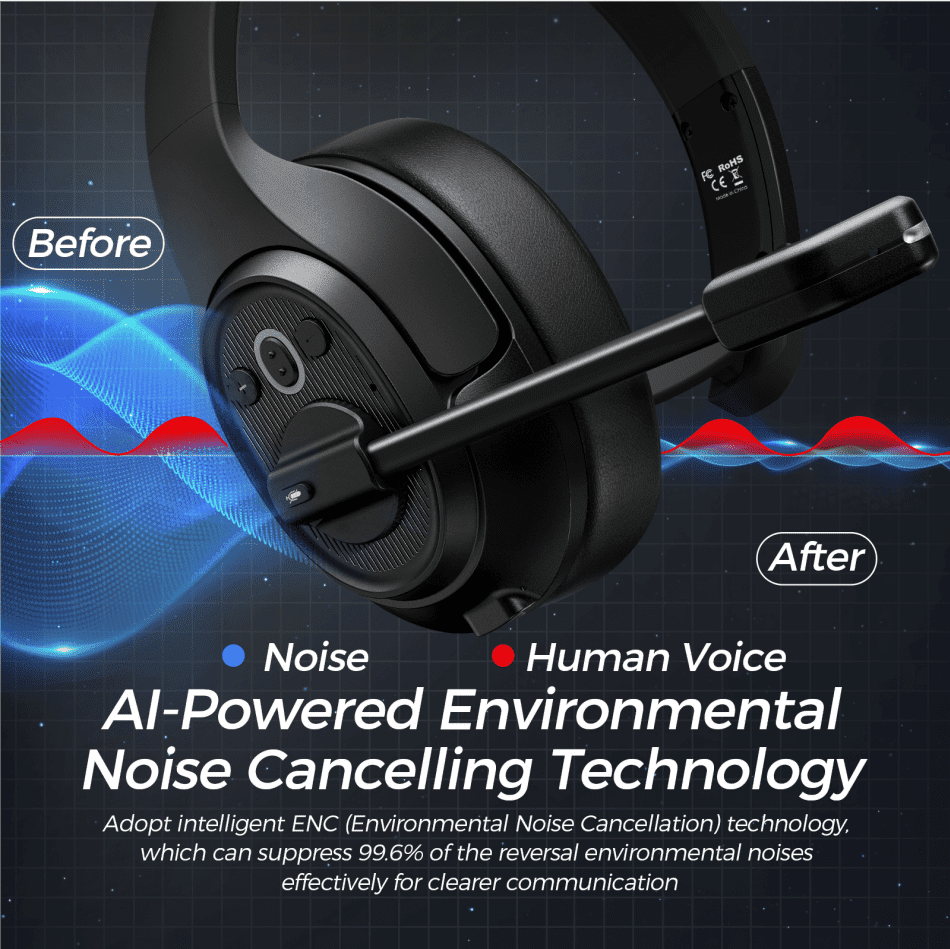 Wireless Connection For Ultra-Long Distance
H1/H1 Plus bluetooth headset is specially designed for truckers, call centers, construction sites and warehouses.
This bluetooth headphones with noise-cancelling microphone feature an ultra-long wireless operating range up to 99 feet/30 meters away for better connectivity, faster transmission and better stability.
(Note: Wireless connection distance can reach even longer distances of 50 meters/164feet, provided there are no obstacles.)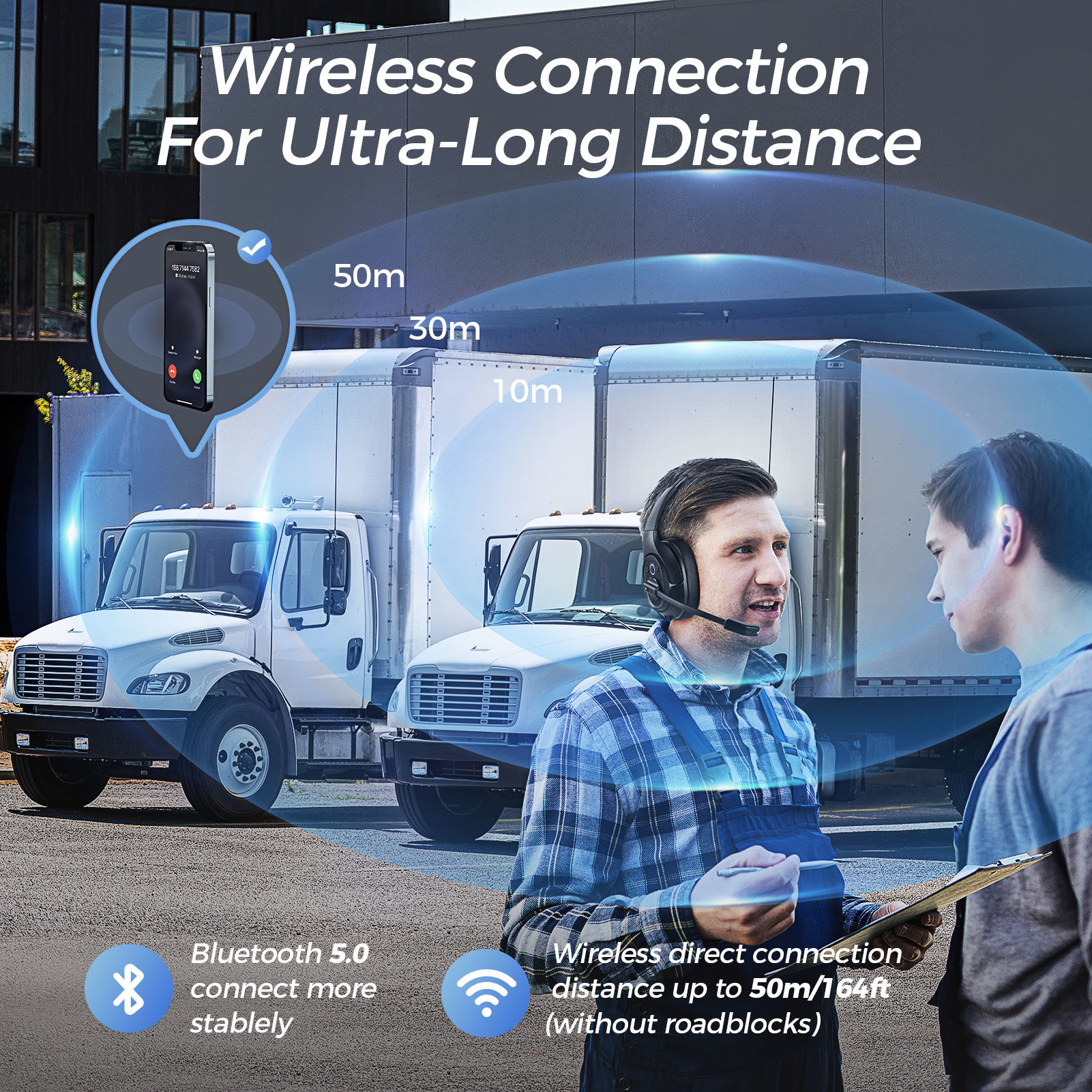 Long Usage Time
EKSA H1/H1 Plus is equipped with the latest Bluetooth V5.0 low-power chip, built-in 500mAH lithium battery, charging for 1.5 hours, can play audio for 57 hours or talk for 30 hours, giving you peace of mind throughout the day.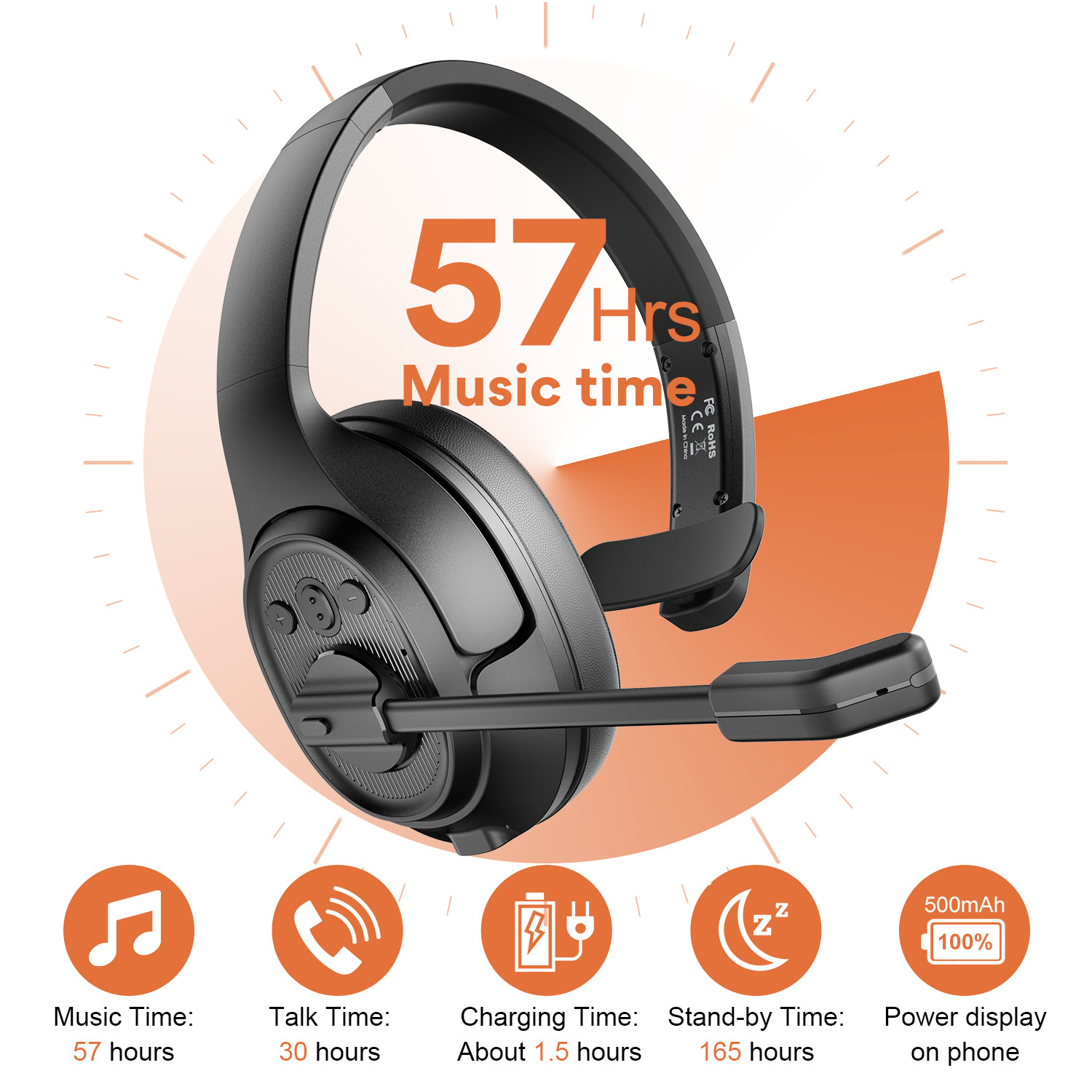 Dual Devices Connection
EKSA H1/H1 Plus Bluetooth 5.0 wireless headset can be connected to two devices at the same time, such as your mobile phone and tablet computer, connect once, switch at will.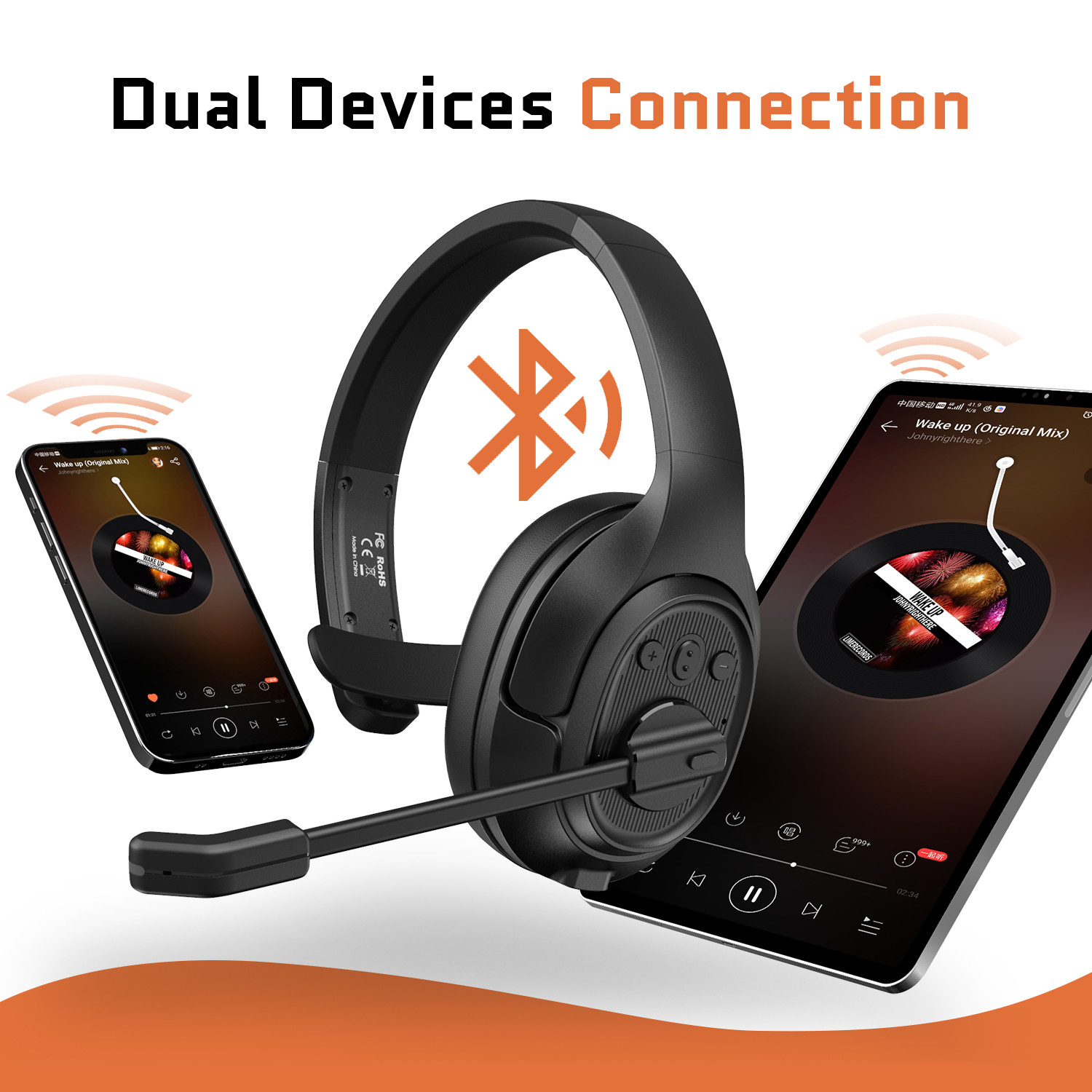 Headset for Left or Right Ear
EKSA H1/H1 Plus adopts Unilateral Over-Ear design, with 270° rotatable microphone, it can be worn on left or right ear.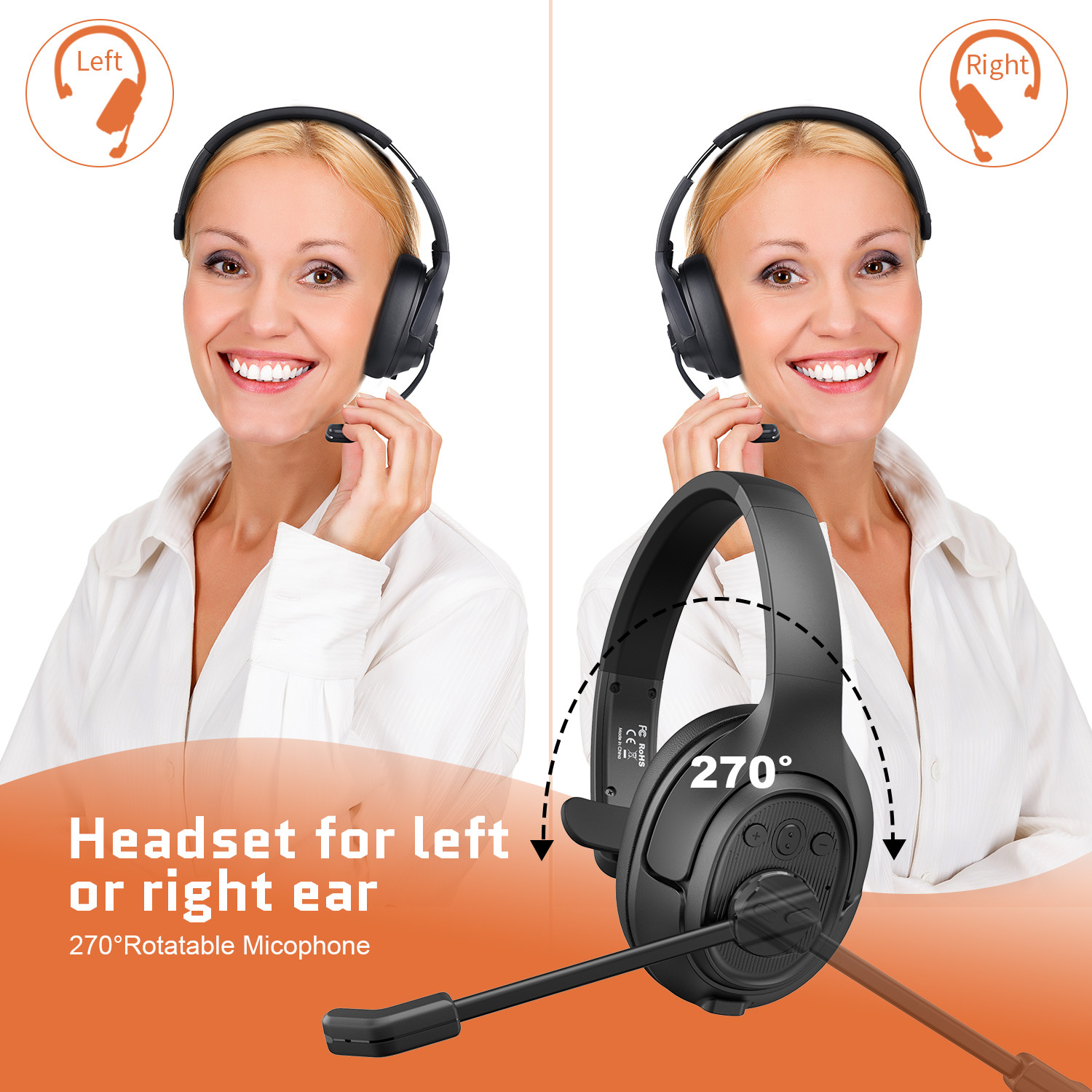 Easy To Use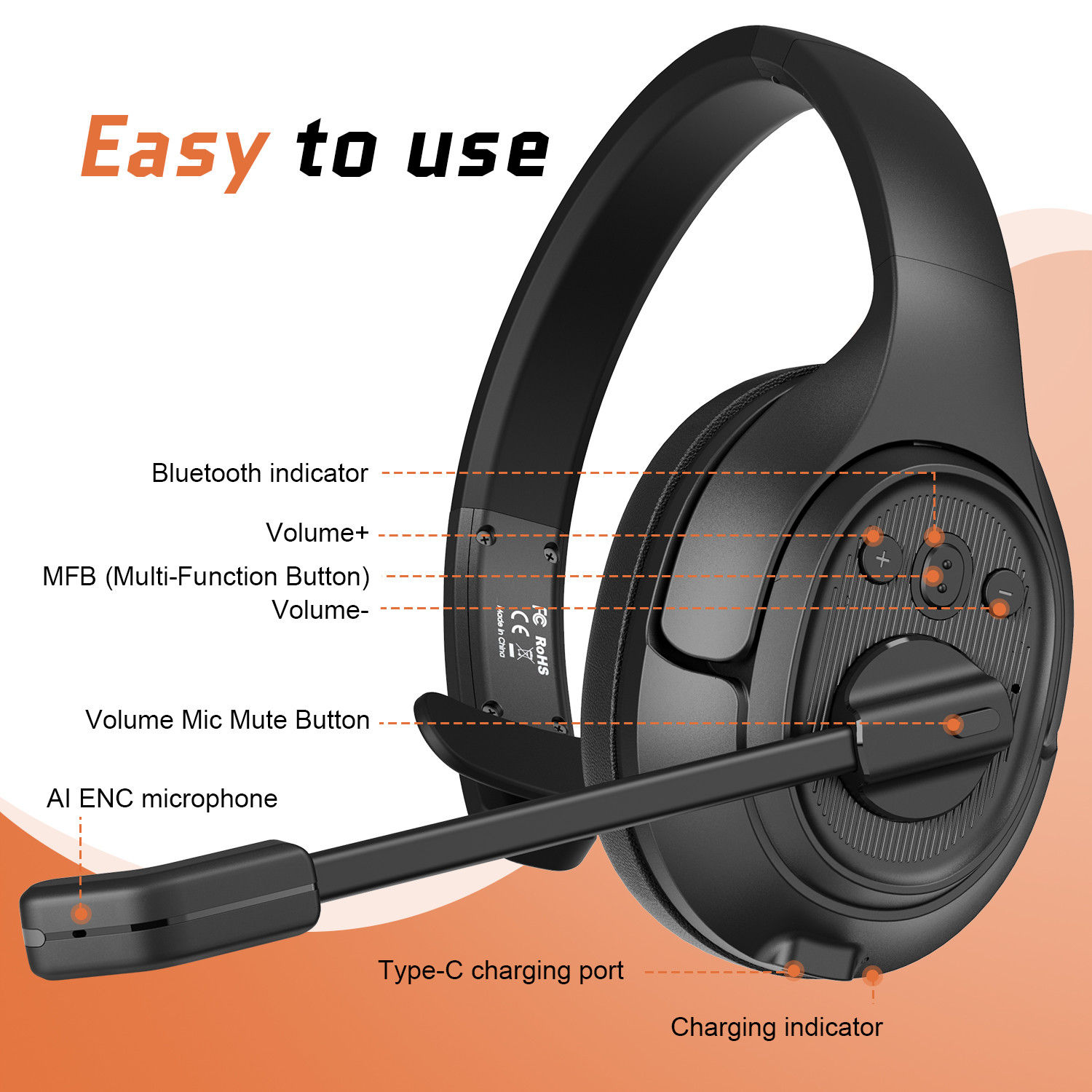 All Day Comfort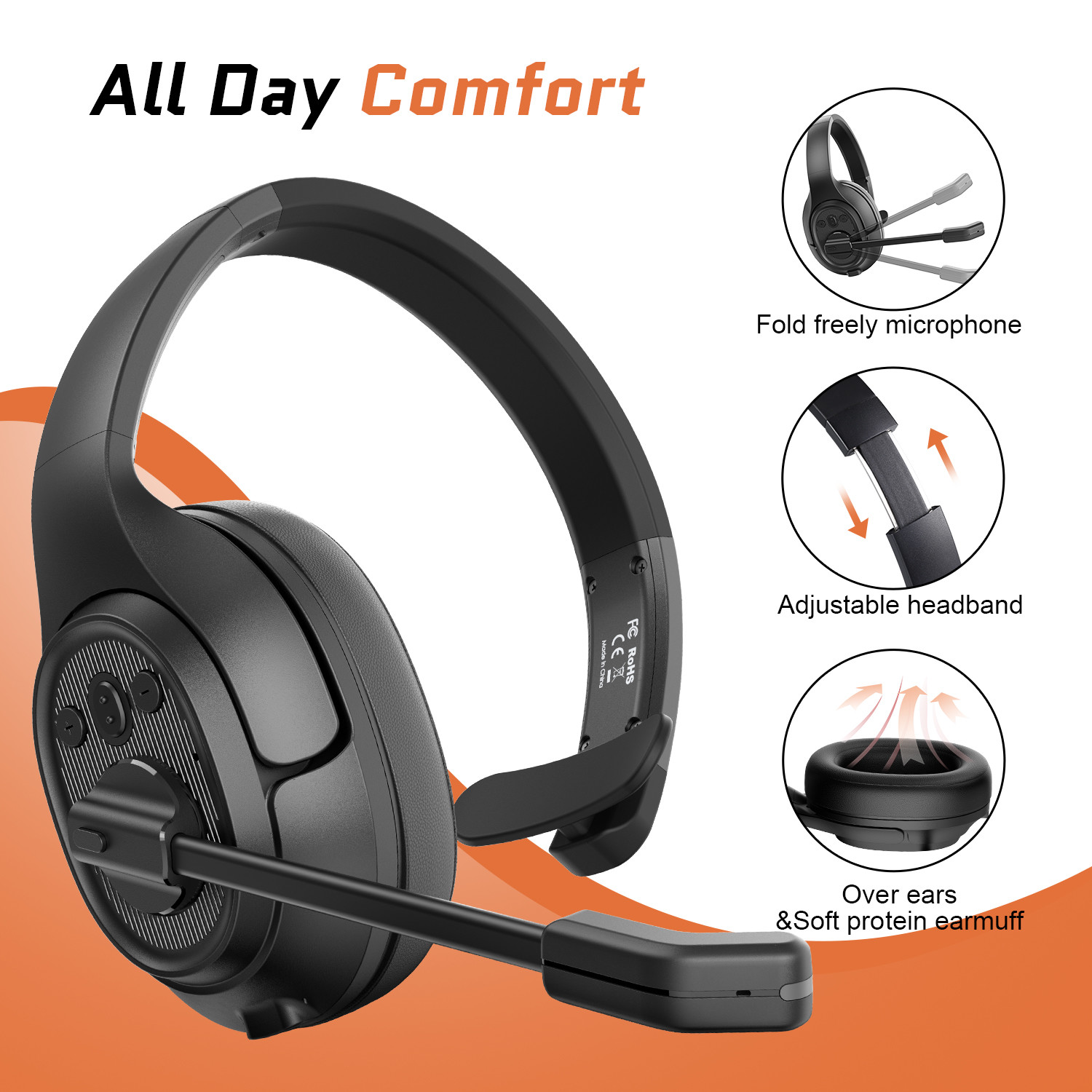 Multi-scene use
EKSA H1/H1 Plus Bluetooth 5.0 wireless headset is widely used, no matter truck drivers/Production Workshop/Construction Site/ Call Center, it is your ideal choice.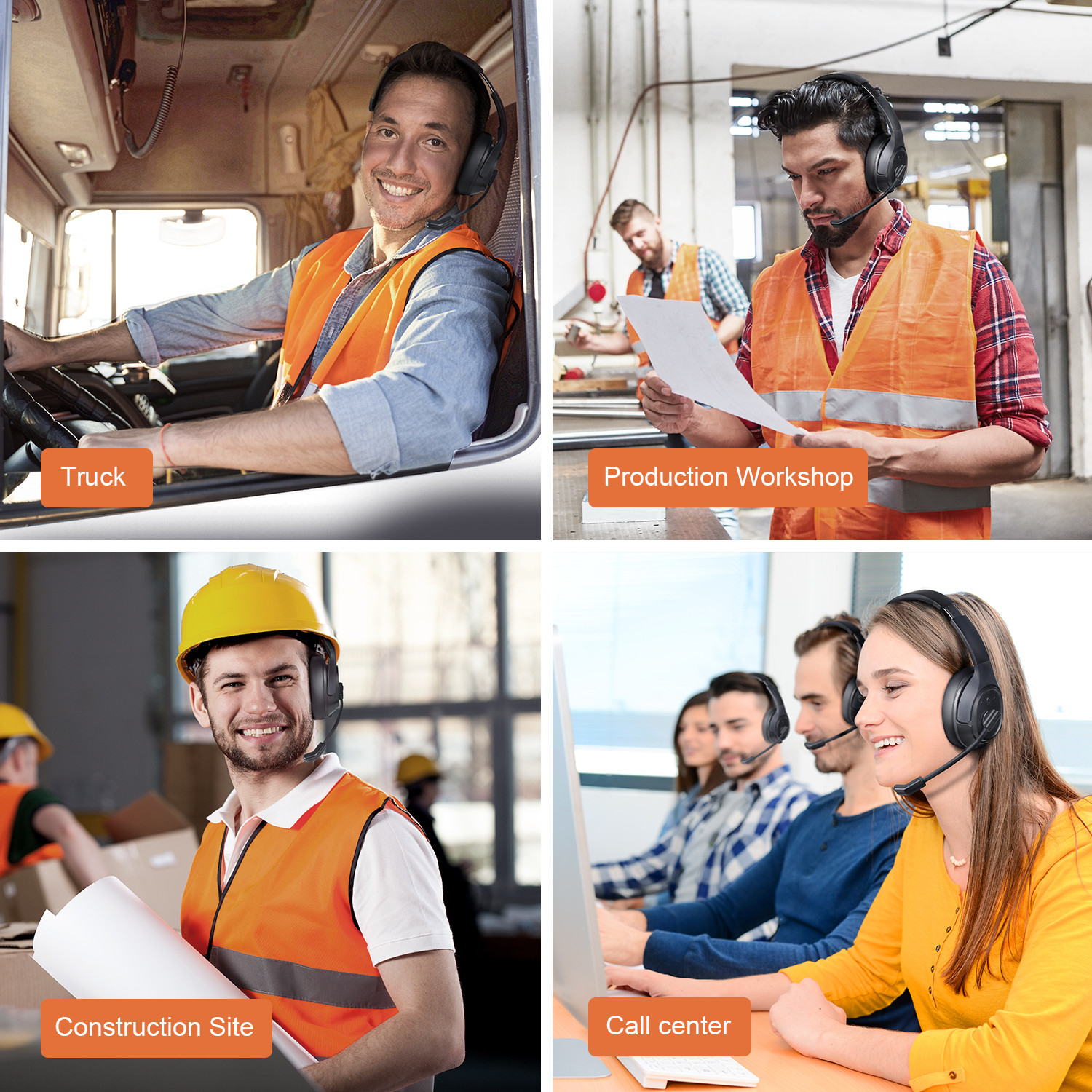 H1 Packing List:
1× EKSA H1 Headset
1× Charging Cable
1× Carry Pouch
1× User Manual
1× Packing box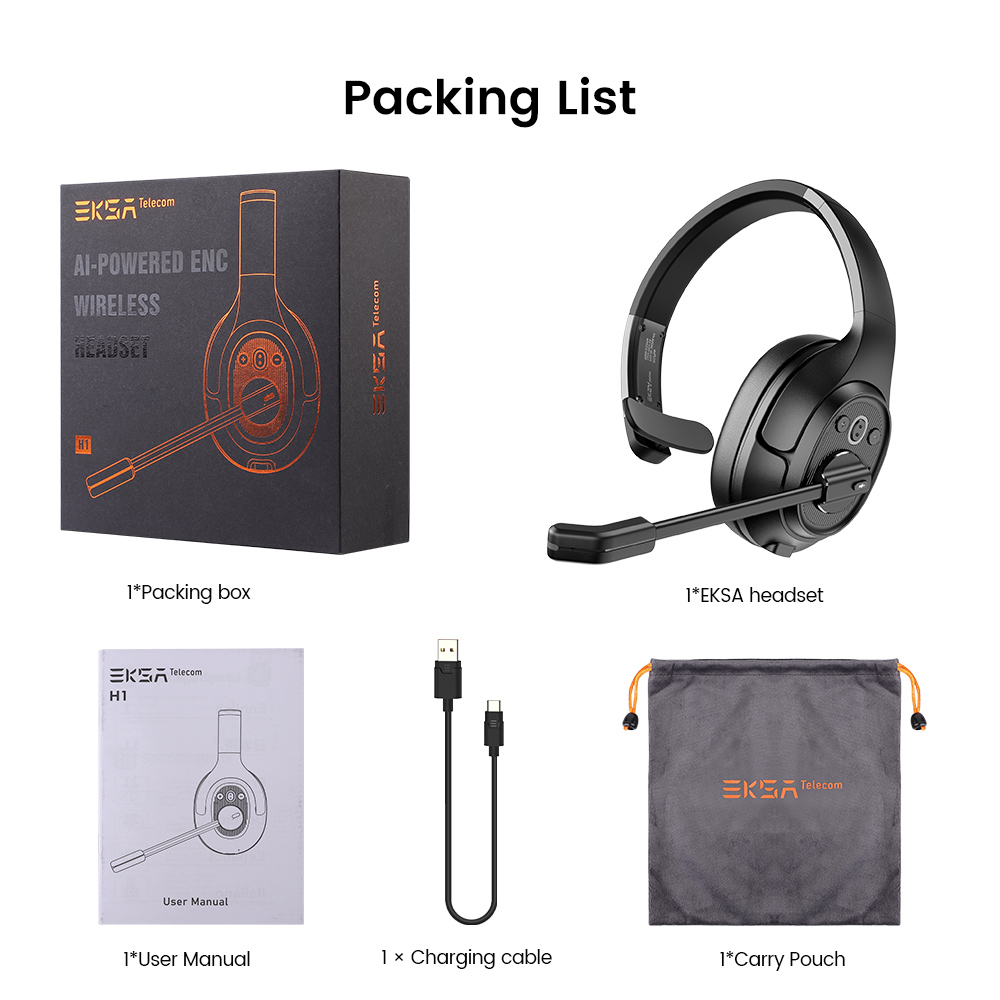 H1 Plus Packing List:
1× EKSA H1 Headset
1× Charging Cable
1× Carry Pouch
1× User Manual
1× Retail Box
1× EKSA PC Adapter
1× Replacement Ear Pad