Emotional Support Dog Vest Harness for Service Dog – Adjustable Nylon with Removable Reflective Patches for Emotional Support Dogs Large Medium Small Sizes
Please DO MEASURE your cat to get the right size before purchase!
❤❤❤【Size Measuring】- Use a soft measuring tape. Measure all the way around the rib cage, full circle. Your dog must be standing. Check out our helpful Size Chart in Picture 5th for reference. As a general rule of thumb, if your dog's measurement falls on the maximum end of one size, always order the next size up.
XS-Chest18-21in(45-53cm);Neck11-14in(28-35cm);
S-Chest20-25in(51-64cm);Neck16-20in(40-51cm);
M-Chest24-32in(61-84cm);Neck20-26in(51-66cm);
L-Chest28-37in(71-94cm);Neck23-29in(58-74cm);
XL-Chest33-43in(83-109cm);Neck26-33(66-83cm)
XXL-Chest34-46in(86-116cm);Neck31-37in(78-94cm).
Features
❤❤❤【Comfortable Soft breathable material】-Padded back & neck straps completed by breathable mesh lining. Best service dog vest for your lovely friend,which protects your service dog from abrasions.Traction pressure is evenly distributed to the body to prevent choking.This Emotional Support service dog vest will be the best gift for your dog.
❤❤❤【Solid Design and Craftsmanship】- Made from sturdy, high quality nylon, with removable "EMOTIONAL SUPPORT" patches, a stainless steel D-Ring for leashes and ID tags and an upgraded top-mounted standing handle, this service dog jacket is a must have item for your dog's wardrobe.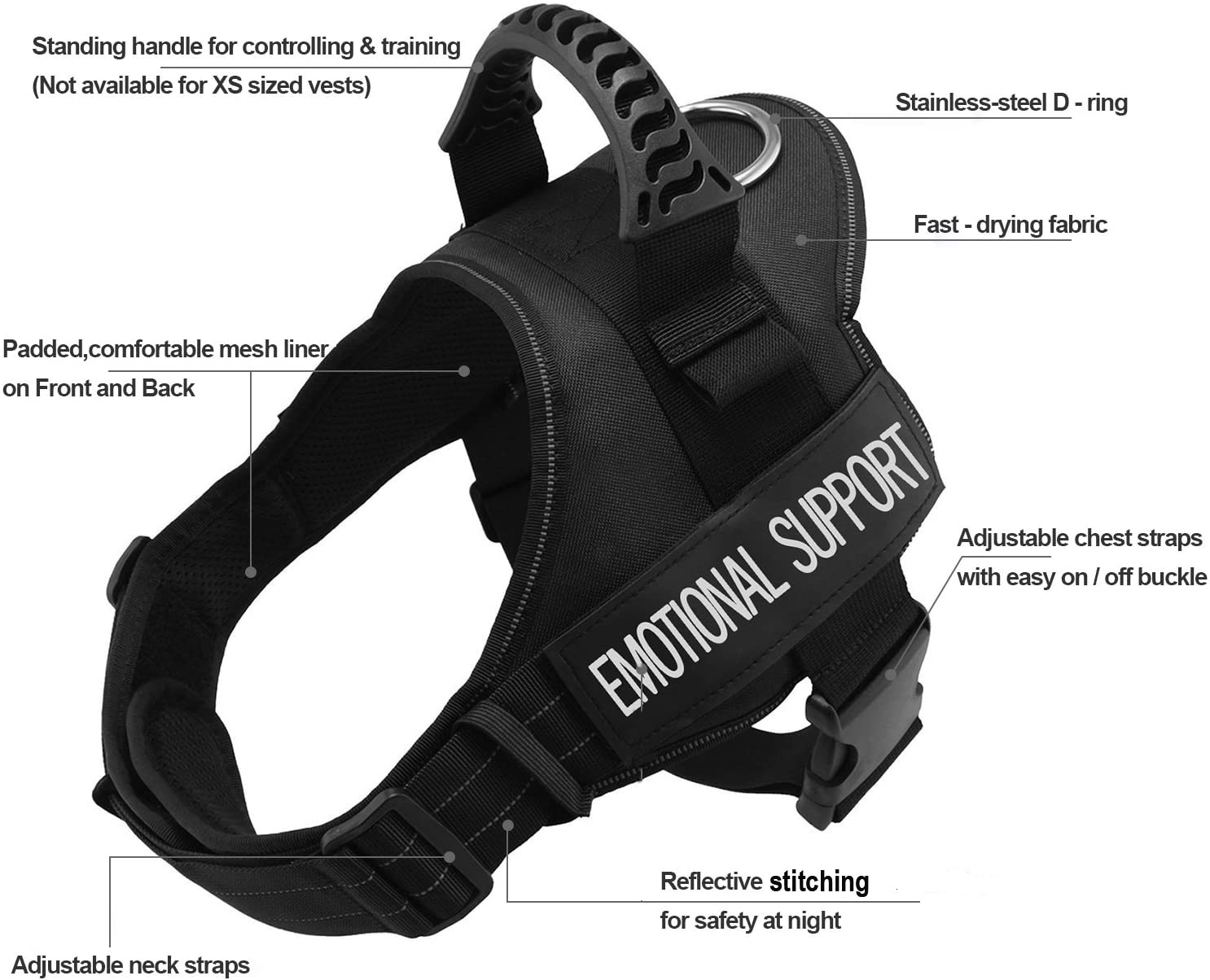 ❤❤❤【Vibrant Color & High Reflective Visibility】-Beautiful bright red and black color, reflective stitching make dog vest harness glow and stand out at night and ensure safety.

Q&A
Question 1:
What size would this dog harness fit a cocker spaniel?
Answer:
I got a medium dog harness for our pup but shes a bull mastiff/ridge back and gonna be quite big. Best to measure around the neck and body ,choose the right sizes on the description.
There is a dog harness size chart so you need to measure your dog.
I got a Large dog vest for a 24kg staffy.
I got the small dog vest for my chubby jack Russell, really well so easy to put on and no Pull, its fantastic the fit.
Medium dog harness if it helps.
Question 2:
The small size is an inch to small. But the m size is about 2 inches to big. What would u say suits my 2 dogs?
Answer:
I bought the medium for my pug she is 9 kg I bought it because of her shape it's still slightly big but I think it's perfect for her chest area you can adjust them to size hope this helps.
Sorry I just don't know but I guess bigger is better than too tight.
My dog is a Yorkier and we bought.the small size which is perfect. There are adjustments as well.
Question 3:
Is this escape proof?
Answer:
Yes totally escape proof as long as it is correct size if too large and fits properly .
No, our one Spanish rescue water dog is a bit of an escape artist if she gets spooked and she has managed to flip herself out of this with a struggle. It has happened two or three times but does give me enough notice to grab her.
It all depends what dog you have I have a toy cavapoo and lock the side of it which is good so she cannot escape.
Buyer show