**Important: Our Original Kojic Acid Underarm Whitening Cream is only available on this store be aware of fake & cheap copies!
Congratulations ! Free FAST Shipping is Available to Ashburn United States
The specially designed Kojic Acid Pro-Formula cream smoothly absorbs in the skin and starts reversal of hyperpigmentation of intimate parts such as Underarms, knee, neck, elbow, and thighs.
A pleasant scent without any residual on the skin brightens the under-laying skin tone with regular usages.
How to use: Take a proper amount of this product at your fingertips and gently massage evenly to the area that needs improvement. Each part can be fully absorbed for 4-6 minutes. This cream can be used under the armpit/private area/under the armpits/elbows. Use all parts of your knee twice a day. It is recommended to be in the morning and evening, which is better.

For Adults Only.

Suitable for all skin types
Efficacy: whitening, nourishing and moisturizing.

Net content: 50 (g / ml)
Package Included:

1*Whitening Cream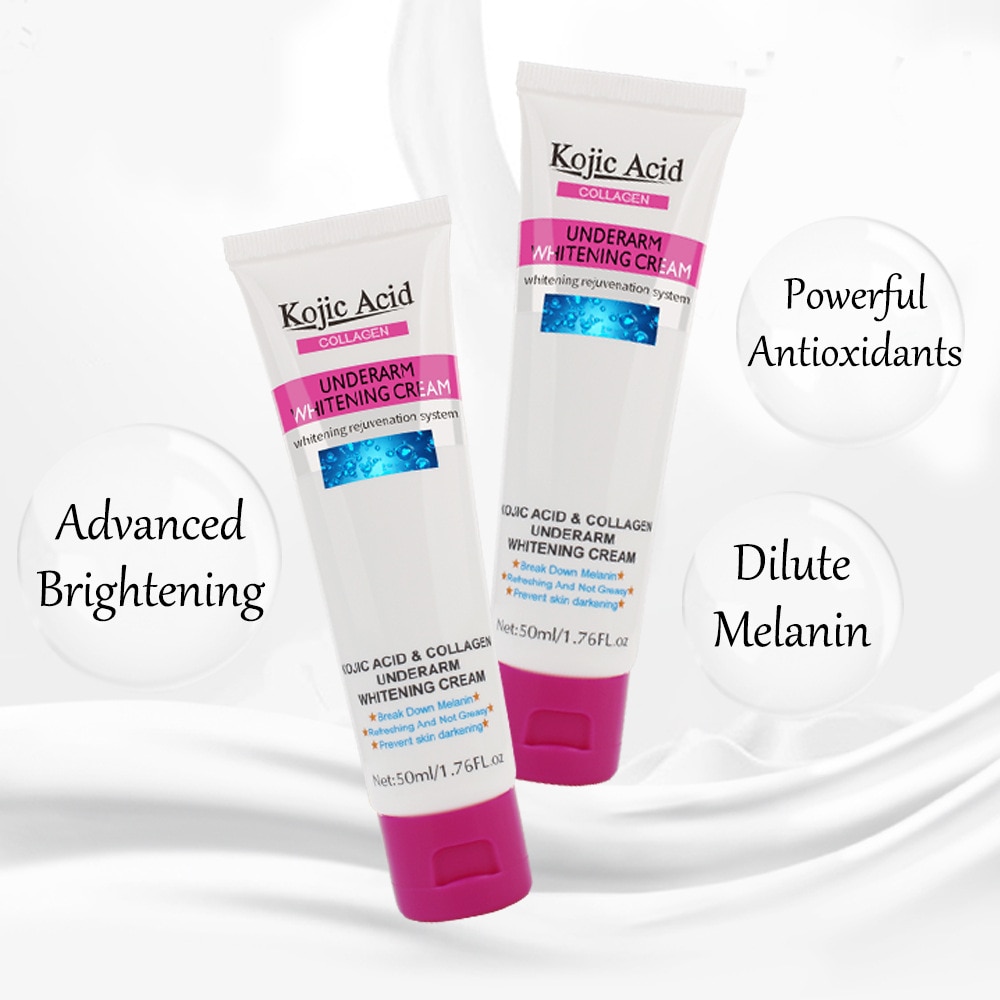 Introducing our Premium Kojic Acid Formula Armpit Whitening Cream!
A highly effective solution designed to target and brighten the delicate skin of your underarms. This advanced cream utilizes the power of kojic acid, along with potent antioxidants, to provide a comprehensive approach to underarm whitening. At the heart of this exceptional formula is kojic acid, a natural ingredient renowned for its skin brightening properties. Kojic acid works by inhibiting the production of melanin, the pigment responsible for dark spots and discoloration. By effectively reducing melanin synthesis, this cream helps to visibly lighten the appearance of dark underarms, revealing a more even and radiant skin tone.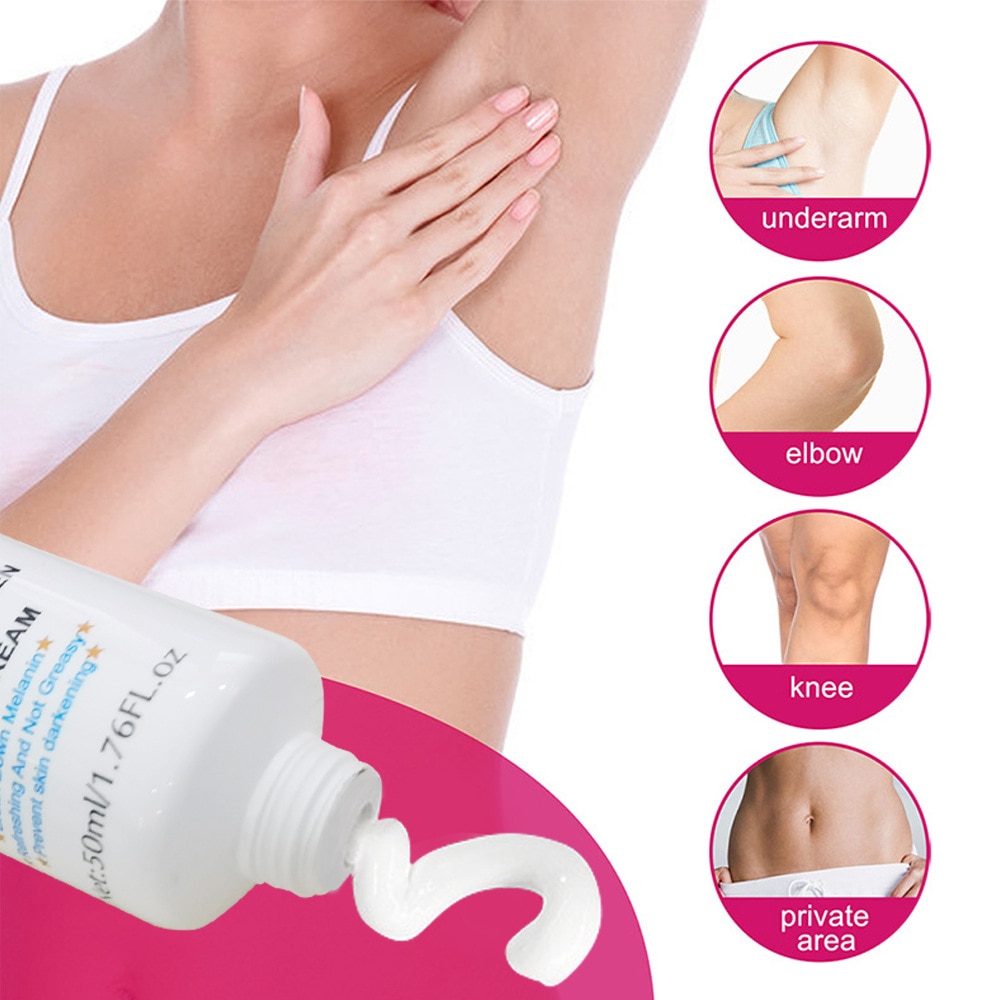 To enhance the brightening effects, our Premium Kojic Acid Formula Armpit Lightening Cream is enriched with powerful antioxidants. These antioxidants help to protect the skin against harmful free radicals, which can cause oxidative stress and further contribute to pigmentation issues. By neutralizing these free radicals, the cream not only promotes a brighter complexion but also supports overall skin health.
In addition to its potent whitening properties, this cream also provides excellent moisturization and nourishment for your underarms. It features a rich and luxurious texture that quickly absorbs into the skin, leaving it feeling soft, smooth, and hydrated. With regular use, you can expect your underarms to not only look brighter but also feel supple and revitalized.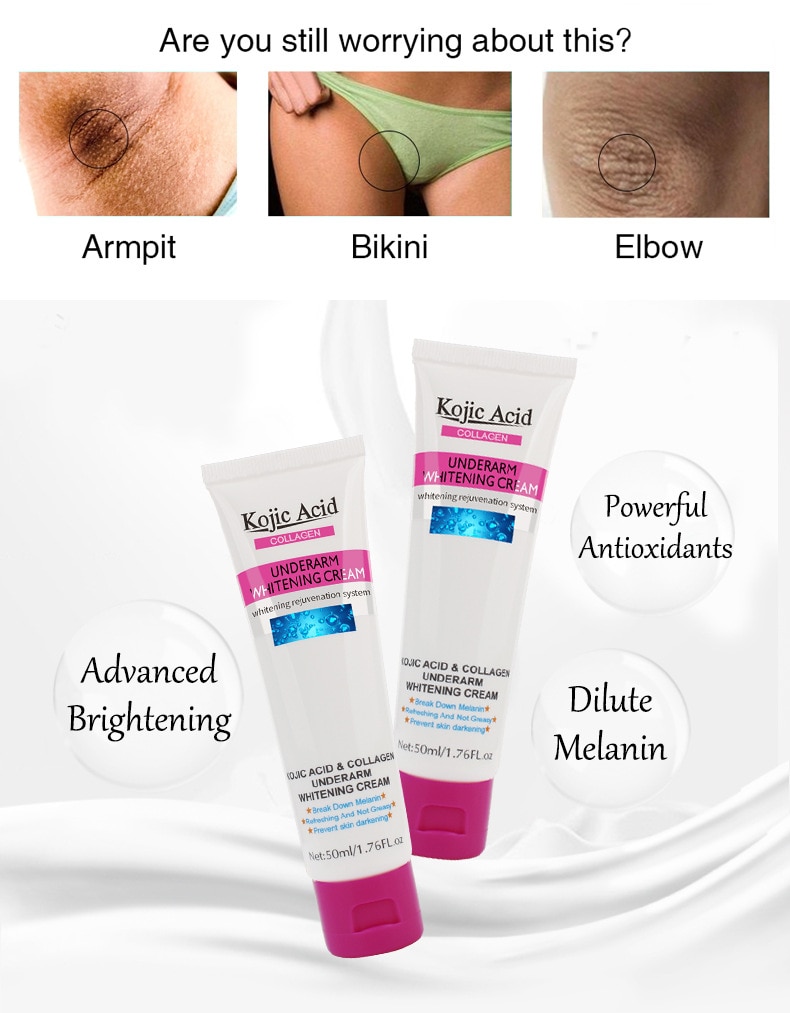 Our Premium Kojic Acid Formula Underarms bleaching Cream is meticulously crafted with premium quality ingredients, ensuring maximum effectiveness and safety. It is dermatologist-tested and suitable for all skin types, making it an ideal choice for anyone seeking to achieve visibly lighter and more beautiful underarms.
To use, simply apply a small amount of the cream to clean and dry underarms. Massage gently until fully absorbed, and allow the cream to work its magic. For optimal results, it is recommended to use this cream twice daily, morning and evening, as part of your regular skincare routine.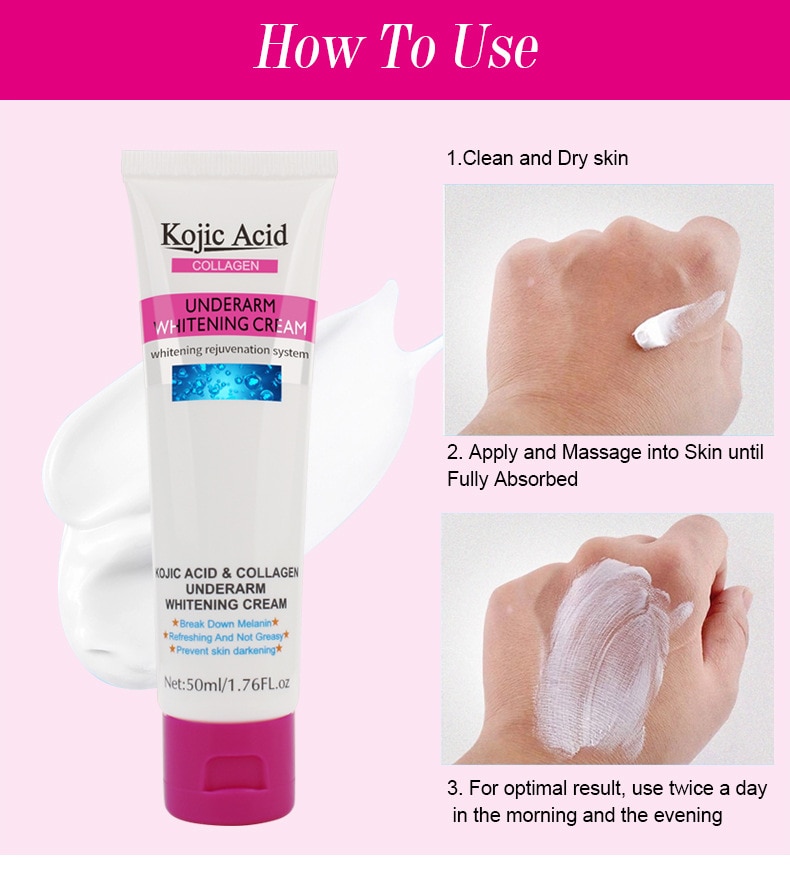 Discover the transformative power of our Premium Kojic Acid Formula Underarms brightening Cream and say goodbye to dark underarms. Illuminate your skin and boost your confidence with this exceptional product that dilutes melanin and delivers unparalleled results. Try it today and experience the difference for yourself!