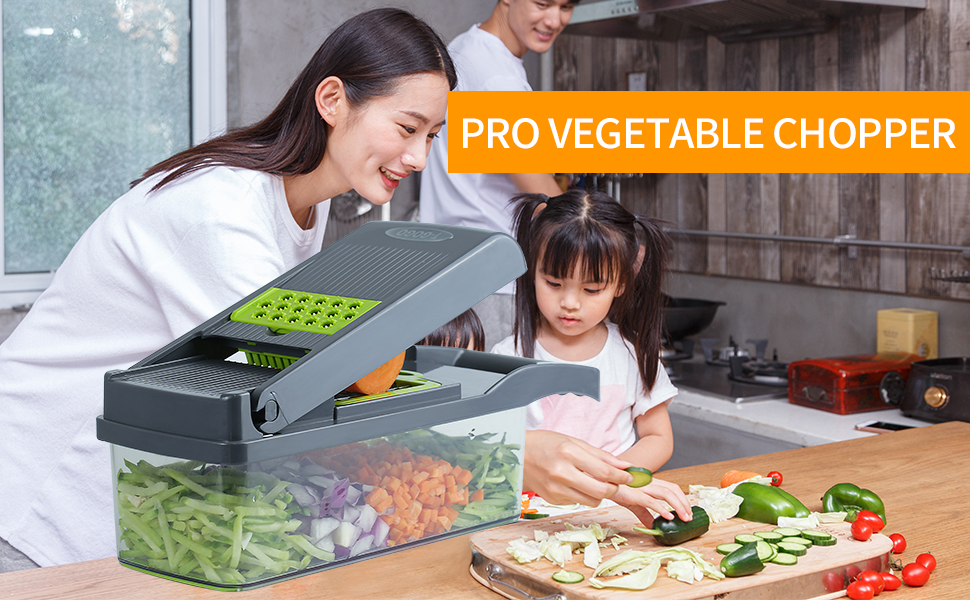 Revolutionize your meal preparation with the 12 in 1 Vegetable Chopper Multifunctional Mandoline Slicer, the ultimate kitchen tool that will make slicing, dicing, and chopping a breeze. This versatile slicer offers an impressive 12 functions, making it an all-in-one solution for all your culinary needs.
Gone are the days of spending hours in the kitchen, as this multifunctional mandoline slicer streamlines your food prep process. Whether you're slicing fruits, dicing vegetables, or julienning herbs, this chopper has got you covered with its array of interchangeable blades.
Designed for convenience and ease of use, this mandoline slicer features a user-friendly design that ensures safety while cutting. The non-slip base keeps the slicer securely in place, providing stability and preventing accidents during use.
Crafted from high-quality materials, this vegetable chopper is built to last and withstand the rigors of everyday kitchen use. Its sharp blades effortlessly glide through ingredients, giving you precise and consistent cuts every time.
The 12 in 1 Vegetable Chopper Multifunctional Mandoline Slicer is not just a kitchen tool; it's a game-changer that will elevate your culinary experience to new heights. Say goodbye to tedious chopping and welcome the efficiency and versatility of this multifunctional slicer.
In conclusion, the 12 in 1 Vegetable Chopper Multifunctional Mandoline Slicer is a must-have for every kitchen. Its impressive range of functions, user-friendly design, and durable construction make it the perfect kitchen assistant. Embrace the joy of effortless food preparation and make cooking a pleasure with this multifunctional mandoline slicer. Get yours today and experience the ultimate kitchen transformation!
Material:ABS+PP+Stainless Steel
Everything Get Done In Your Kitchen!!!
The T-GOGO Vegetable Chopper is a versatile all-in-one kitchen tool that is perfect for preparing salads, salsa, onions, garlic and more. It delivers fast, consistent results and sports an impressive 4-cup (1.2L) capacity. Its space-saving design eliminates the need for bulky equipment in small kitchens while its catch tray minimizes messes. The clear body lets you monitor progress as you cut up carrots, cucumbers, squash, zucchini and spices like ginger. Because it requires no electricity, the Vegetable Chopper can be used anywhere.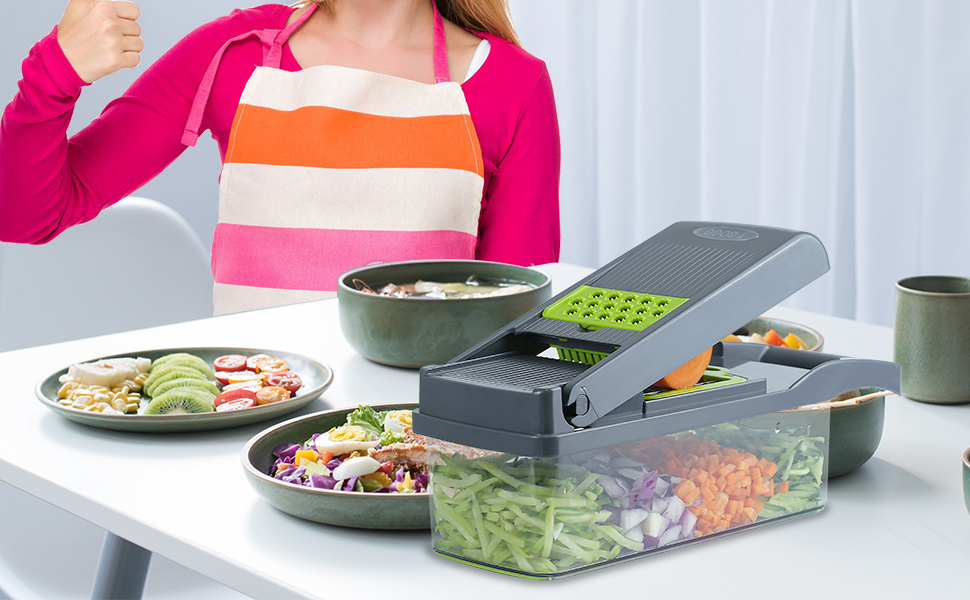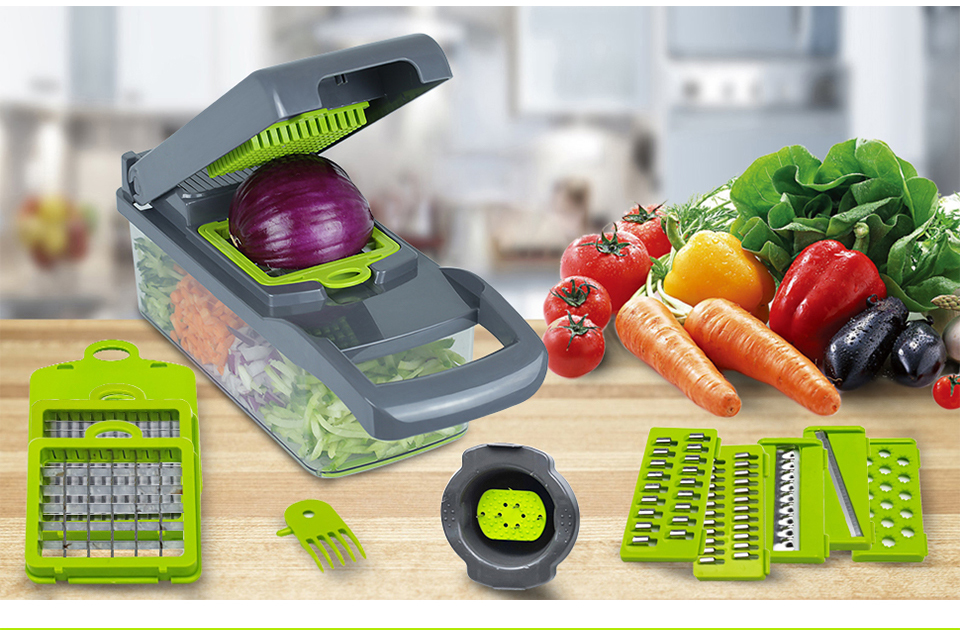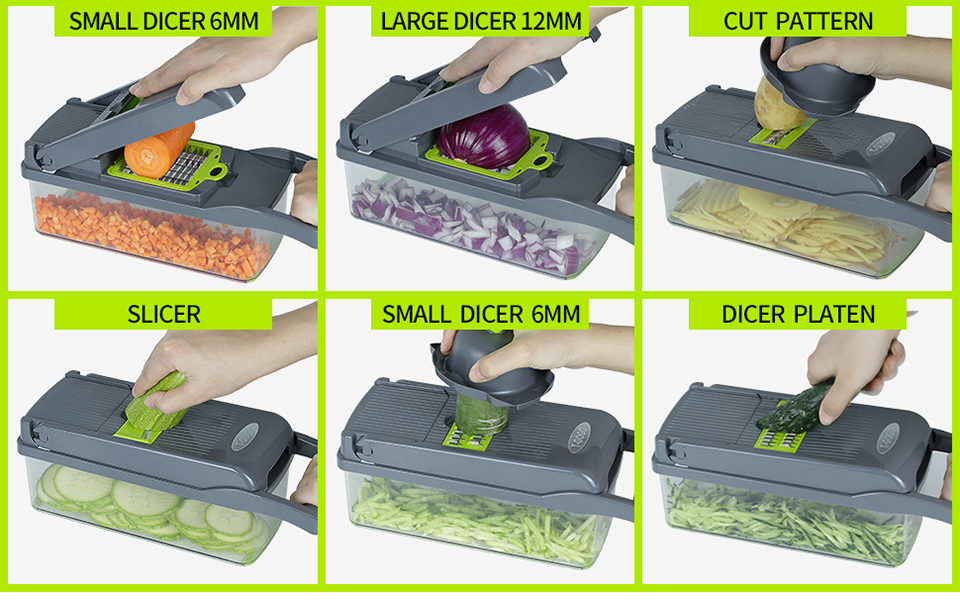 Comfortable to Use and Durable!
Our T-GOGO Vegetable Chopper is made of long-lasting, impact resistant ABS plastic ,so it withstands the rigors of your busy kitchen. The 6 interchangeable blades are made of heavy-duty, rust resistant stainless steel.They tackle the toughest potatoes and the crunchiest carrots without bending,and they maintain their razor-sharpness use after use.