About This Item:
The ergonomic press design is convenient to squeeze appropriate amount of toothpaste. Rich foam texture is able to clean the gum between the teeth more easily. Natural mint ingredient in this foam toothpaste is useful for whitening teeth and enhancing teeth health, Improve oral environment and relief bad breath.
Keeps your smile up to 99% as white as a professional polish* *with daily use. Stain assessed 4 weeks after a dental cleaning!
Item Name:Teeth Whitening Mousse Foam Toothpaste
Net Weight: 60ml
Flavour:Mint
Feature:Foam texture,Easy to use,Convenient at-home daily cleansing and easy to carry for travel
Effect:Refreshing oral,Stain removal,Teeth whitening,Prevent tooth decay…
Scope of use: Sensitive gums,Bad breath,Tobacco tooth,Yellow tooth…
Usage Tips:
Step 1 Squeeze proper amount of foam on your toothbrush,Deep cleanser cleans thoroughly and freshens mouth.
Step 2 Gently brush your teeth and coated tongue for 3-5 minutes for cleaning and refreshing.
Two-Step System comes with a deep cleansing whitening Toothpaste for a radiant smile!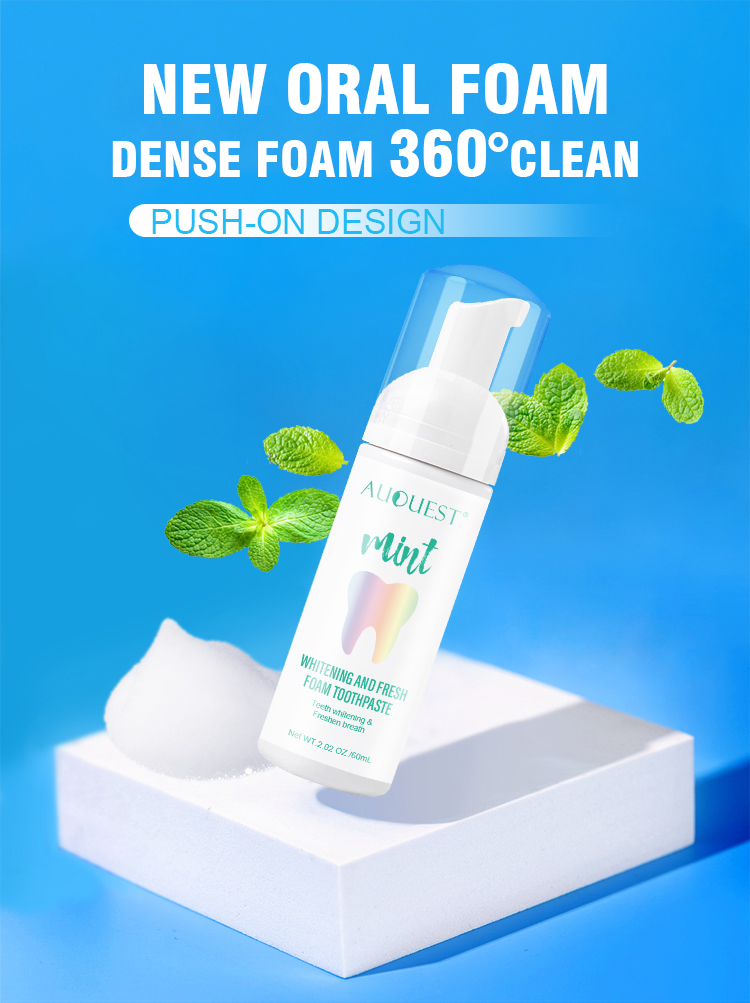 NEW ORAL FOAMDENSE FOAM
360°CLEANPUSH-ON.
DESIGNRICH FOAM DEEPLY CLEANS THE CREVICES BETWEEN TEETH AND WHITENING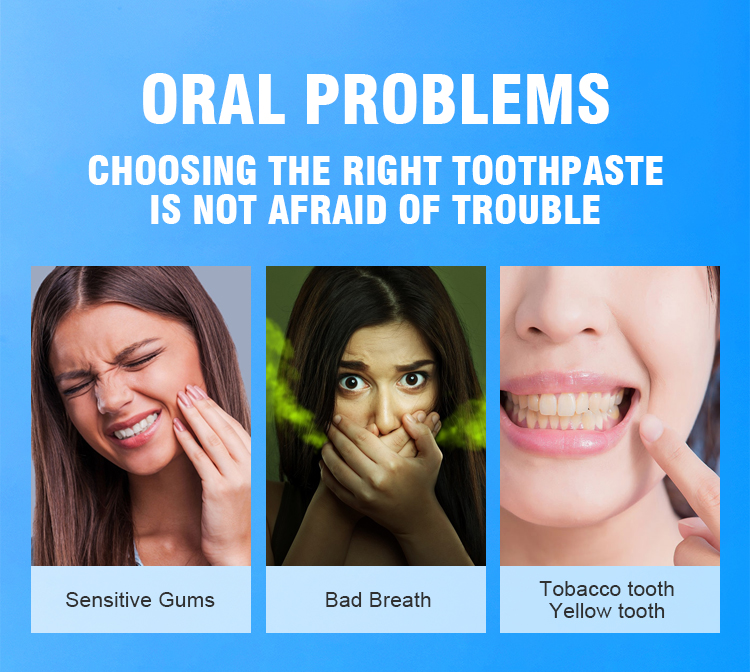 ORAL PROBLEMS
CHOOSING THE RIGHT TOOTHPASTEIS NOT AFRAID OF TROUBLE
Sensitive Gums;
Bad Breath;
Tobacco toothYellow tooth.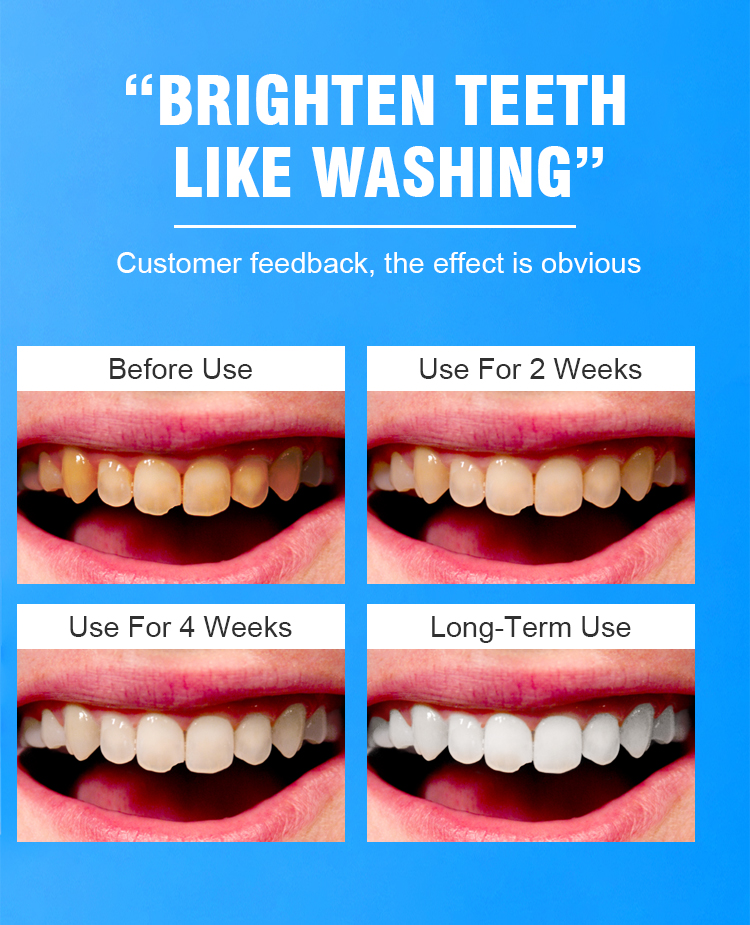 "BRIGHTEN TEETHLIKE WASHING''
 Customer feedback, the effect is obvious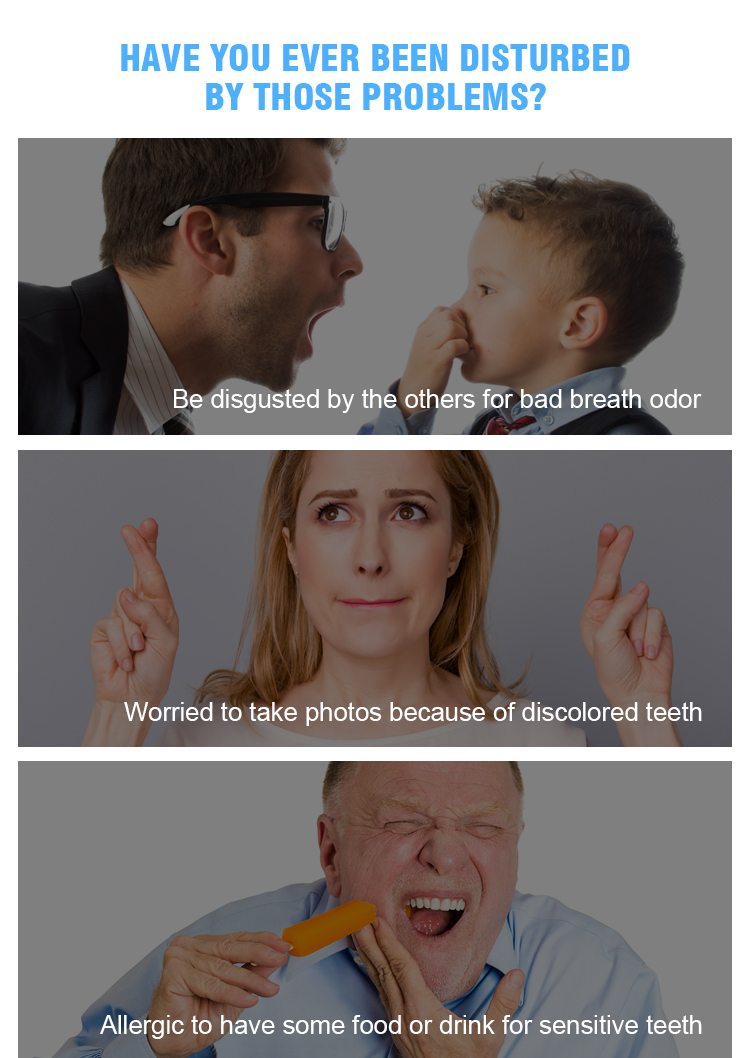 HAVE YOU EVER BEEN DISTURBEDBY THOSE PROBLEMS?
Be disgusted by the others for bad breath odor;
Worried to take photos because of discolored teeth;
Allergic to have some food or drink for sensitive teeth.
NEW POSTURE TO CLEAN TEETH
Use the right method Take care of your teeth
01 WAY OF RINSING:
Before use, gently shake the bottle, press the pump head of the bottle1-2 times.making it close to the mouth,
Put the foam into the mouth,gargle with the foamfor 10-15 seconds, then spit out the foam,
Andthen gargle with water,helping refresh your breath.
02 WAY OF BRUSHING:
Before use, gently shake the bottle, press the pump head 1-2 times, puttheappropriate amount of foam on
the toothbrush into the mouth, gargle with thefoam for about 15 seconds, brush your teeth with
thetoothbrush for 2-3minutes, then spit out the foam, and gargle with water.
Warm tip: it is recommended to use it every morning and evening to clean yourmouth.The continous use will keep your teeth and gums healthy.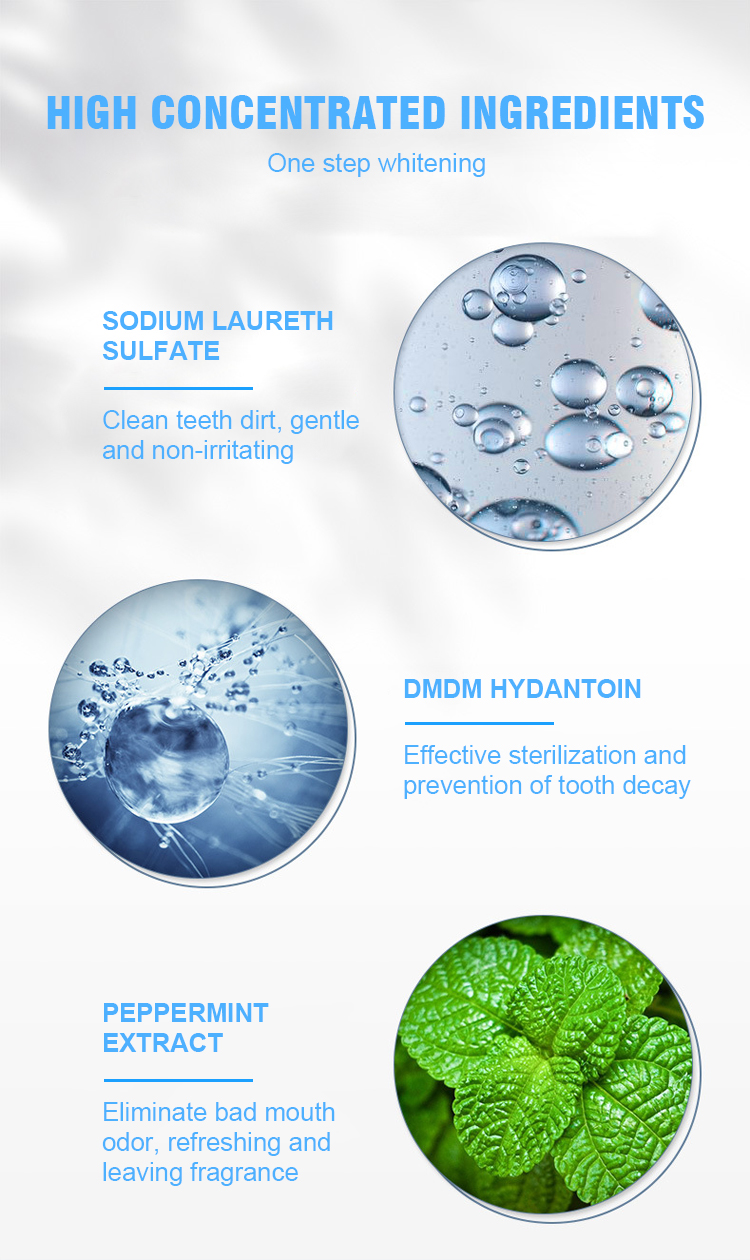 HIGH CONCENTRATED INGREDIENTS
One step whitening
SODIUM LAURETHSULFATE:Clean teeth dirt, gentleand non-irritating.
DMDM HYDANTOIN:Effective sterilization andprevention of tooth decay.
PEPPERMINTEXTRACT:Eliminate bad mouthodor, refreshing andleaving fragrance.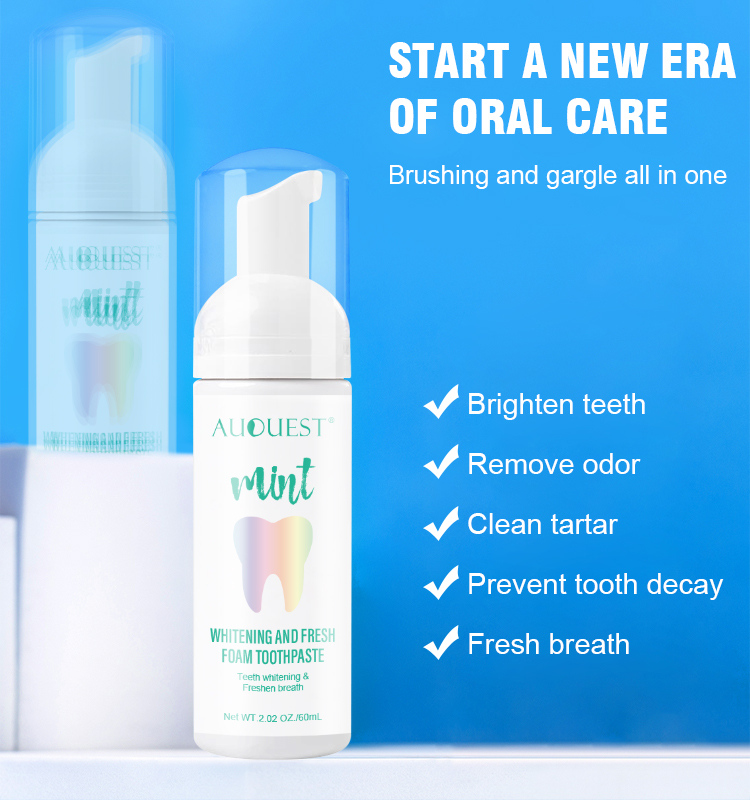 START A NEW ERAOF ORAL CARE
Brushing and gargle all in one
√ Brighten teeth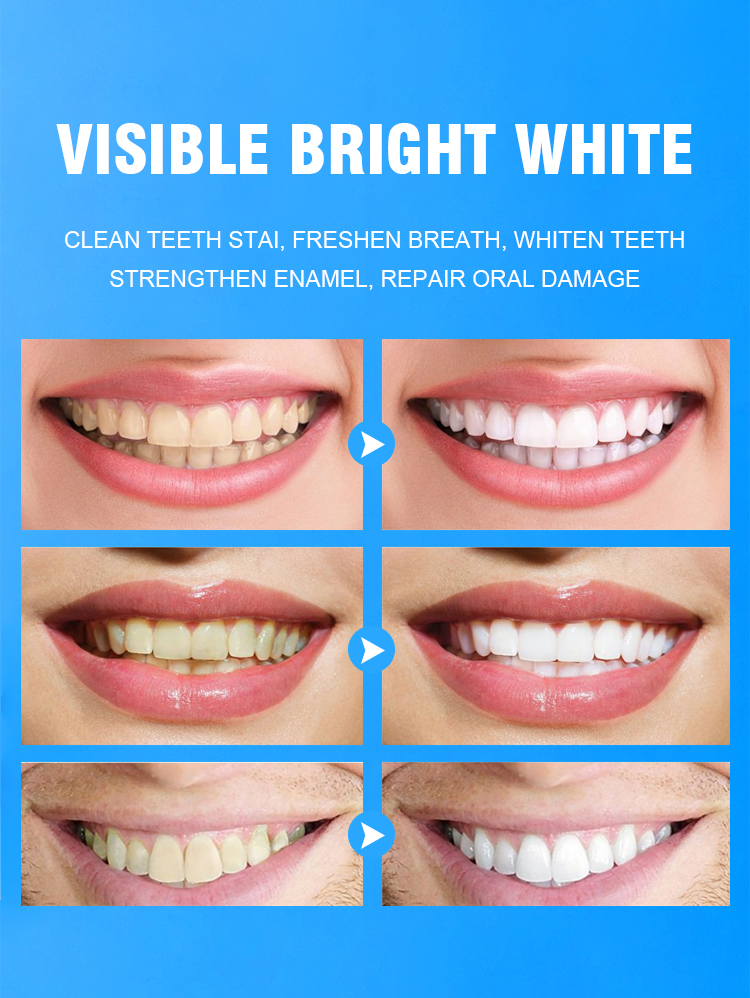 VISIBLE BRIGHT WHITE
CLEAN TEETH STAI. FRESHEN BREATH.WHITEN TEETH,
STRENGTHEN ENAMEL. REPAIR ORAL DAMAGE.