When it comes to maintaining your garden or tackling small-scale cutting tasks around the house, having the right tools can make all the difference. That's where a mini chainsaw comes in. Designed to be compact, lightweight, and highly portable, a mini chainsaw offers the convenience of a traditional chainsaw in a smaller package. If you're a homeowner or a passionate gardener in the UK, looking for the best mini chainsaw to meet your needs, you've come to the right place. In this comprehensive guide, we'll explore the key factors to consider when choosing a mini chainsaw, provide recommendations for the top models available in the UK market, and offer insights to help you make an informed purchasing decision.
Understanding Mini Chainsaws:
So, what exactly is a mini chainsaw? Well, it's a smaller version of a traditional chainsaw, designed to handle smaller cutting tasks with ease. Mini chainsaws are lightweight, portable, and perfect for pruning trees, cutting small logs, trimming branches, and even taking on DIY projects. They're versatile tools that can make your gardening and household tasks a breeze.
Advantages and Limitations of Mini Chainsaws: Mini chainsaws come with several advantages. Firstly, their compact size and light weight make them easy to maneuver, allowing you to work in tight spaces and reach higher branches with less effort. Secondly, they are generally electric-powered or battery-powered, making them quieter and more environmentally friendly compared to their gas-powered counterparts. However, it's important to note that mini chainsaws do have their limitations. Due to their smaller size, they may have reduced cutting capacity compared to larger chainsaws, so they're best suited for lighter tasks and smaller branches.
Factors to Consider When Choosing a Mini Chainsaw:
Power Source: Electric or Battery-Powered? When selecting a mini chainsaw, you'll have the choice between electric-powered and battery-powered models. Electric-powered mini chainsaws offer consistent power and are ideal if you have access to a power source nearby. On the other hand, battery-powered mini chainsaws provide greater portability but may have limited runtime depending on the battery capacity. Consider your specific needs and choose accordingly.
Bar Length and Cutting Capacity: The bar length of a mini chainsaw determines the maximum diameter of the branches it can cut. For most home applications, a bar length between 6 to 10 inches should suffice. Smaller bar lengths are suitable for lighter tasks, while larger bar lengths offer more cutting capacity.
Weight and Ergonomics: Since you'll be handling the mini chainsaw for extended periods, it's important to choose a model that is lightweight and ergonomically designed. Look for a comfortable grip and well-balanced construction to minimize fatigue and strain on your arms and hands.
Safety Features: Safety should always be a top priority when working with power tools. Ensure that the mini chainsaw you choose has essential safety features such as chain brakes to stop the chain in case of kickback, a safety switch to prevent accidental starts, and a handguard for added protection.
Maintenance and Durability: Consider the maintenance requirements and overall durability of the mini chainsaw. Look for models with easy chain tensioning systems, simple lubrication mechanisms, and straightforward cleaning procedures. Opt for a well-built and reliable model that will last you for years to come.
Top 5 Best Mini Chainsaws in the UK Market:
Now that we've covered the key factors to consider, let's explore some of the top mini chainsaws available in the UK market:
1 Bosch Home and Garden NanoBlade Cordless Saw
AdvancedCut 18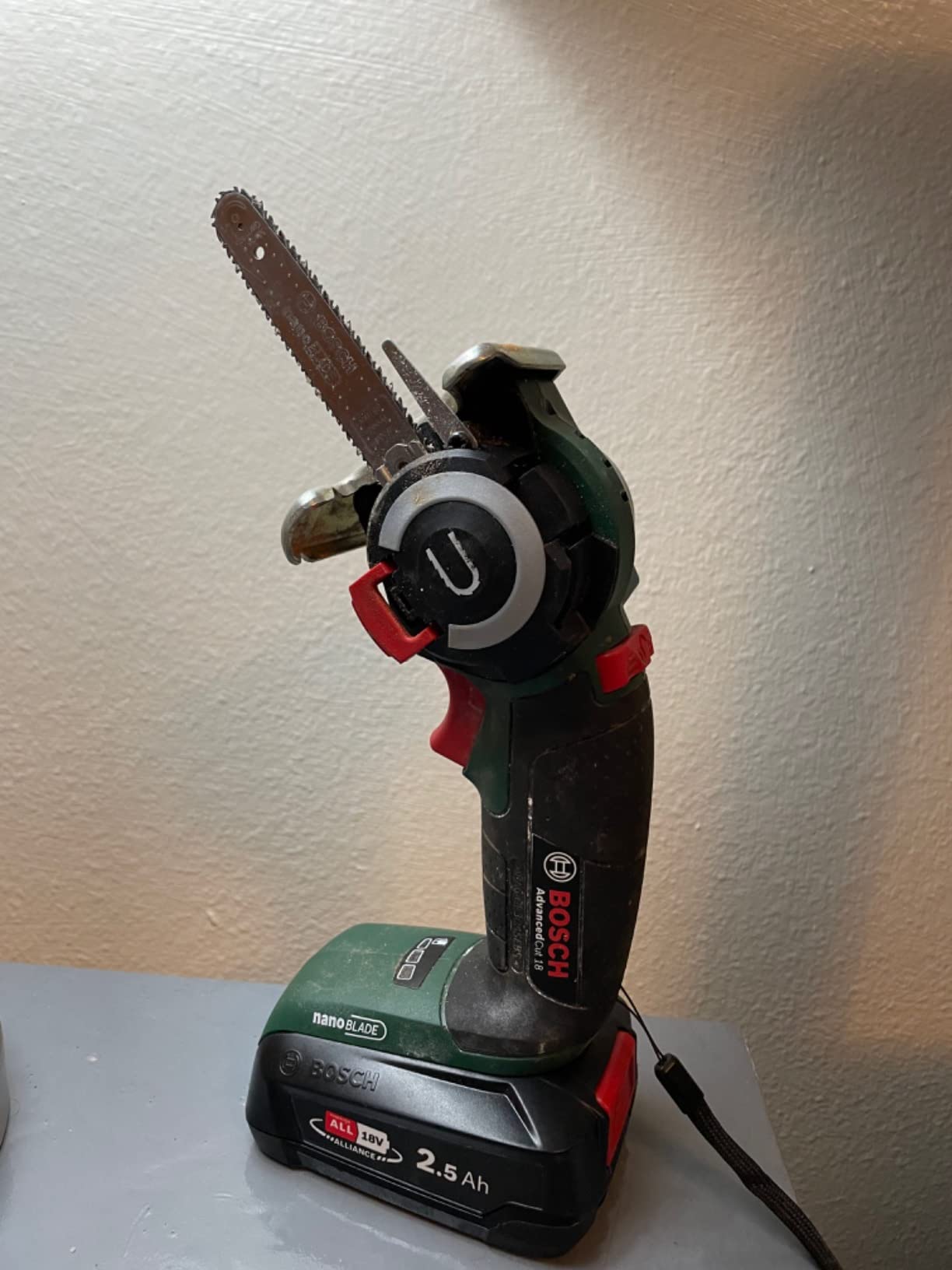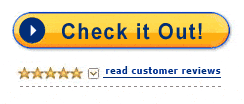 The Bosch Home and Garden NanoBlade Cordless Saw AdvancedCut 18 is a powerful and innovative tool that surpasses expectations. Its brushless motor and NanoBlade technology provide impressive sawing performance. The vibration-free operation ensures precise cuts and reduces user fatigue.
With its tool-free saw blade change, blade replacements are quick and hassle-free. The 2.5 Ah battery delivers ample power, allowing for up to 150 branches to be cut on a single charge. Weighing just 0.7 kg, it's lightweight and maneuverable. The package includes a Nanoblade Wood Speed 65 mm blade, transparent saw blade protective cover, storage loop, and a durable carrying case. However, some users may find the price to be on the higher side, and the battery life could be improved for extended use.
Overall, the Bosch AdvancedCut 18 is an exceptional cordless saw for both professionals and DIY enthusiasts, offering convenience, performance, and innovative features.
2 Saker Mini Chainsaw
The Saker Mini Chainsaw is an impressive cordless cutting tool that offers convenience and performance. With a strong dynamic system and a high-quality guide chain, it delivers smooth and efficient cutting. The upgraded copper wire high-efficiency motor provides longer run-time, more torque, and increased power, extending the chainsaw's overall lifespan. Weighing only 1.1 kg and featuring a compact design, this chainsaw is lightweight and portable, allowing for easy one-handed operation.
The rechargeable 20V 1500mAh lithium battery offers ample power and can be charged at any time. Safety features include a necessary safety lock and a trigger that ensures accident-free operation. The chainsaw is simple to assemble and comes with a convenient storage case for all its accessories.
The Saker team offers dedicated customer service and assistance. In conclusion, the Saker Mini Chainsaw is a versatile and reliable cutting tool that combines power, convenience, and safety. It is ideal for DIY enthusiasts, homeowners, and those seeking an efficient and practical cutting solution for their projects.
3 BEI & HONG Mini Chainsaw 6-Inch
The Mini Chainsaw 6-Inch with 2 Battery is an efficient and reliable cordless cutting tool. With an improved ultra-high chain speed, it cuts through a 6-inch diameter log in just 4 seconds. The two 21V large capacity batteries offer extended runtime and quick charging. Weighing only 0.7kg, it is lightweight and convenient for one-hand use, making it suitable for women and the elderly. The upgraded copper wire high-efficiency motor provides longer run time, more torque, and increased power.
Safety features include a switch lock, baffles to prevent dirt splashing, and included safety goggles. The product is backed by a 45-day satisfaction guarantee and a one-year warranty. The Mini Chainsaw 6-Inch with 2 Battery offers efficient cutting performance, extended battery life, and user-friendly features, making it a reliable choice for various cutting tasks.
4 Seesii Electric Chainsaw with Oiler System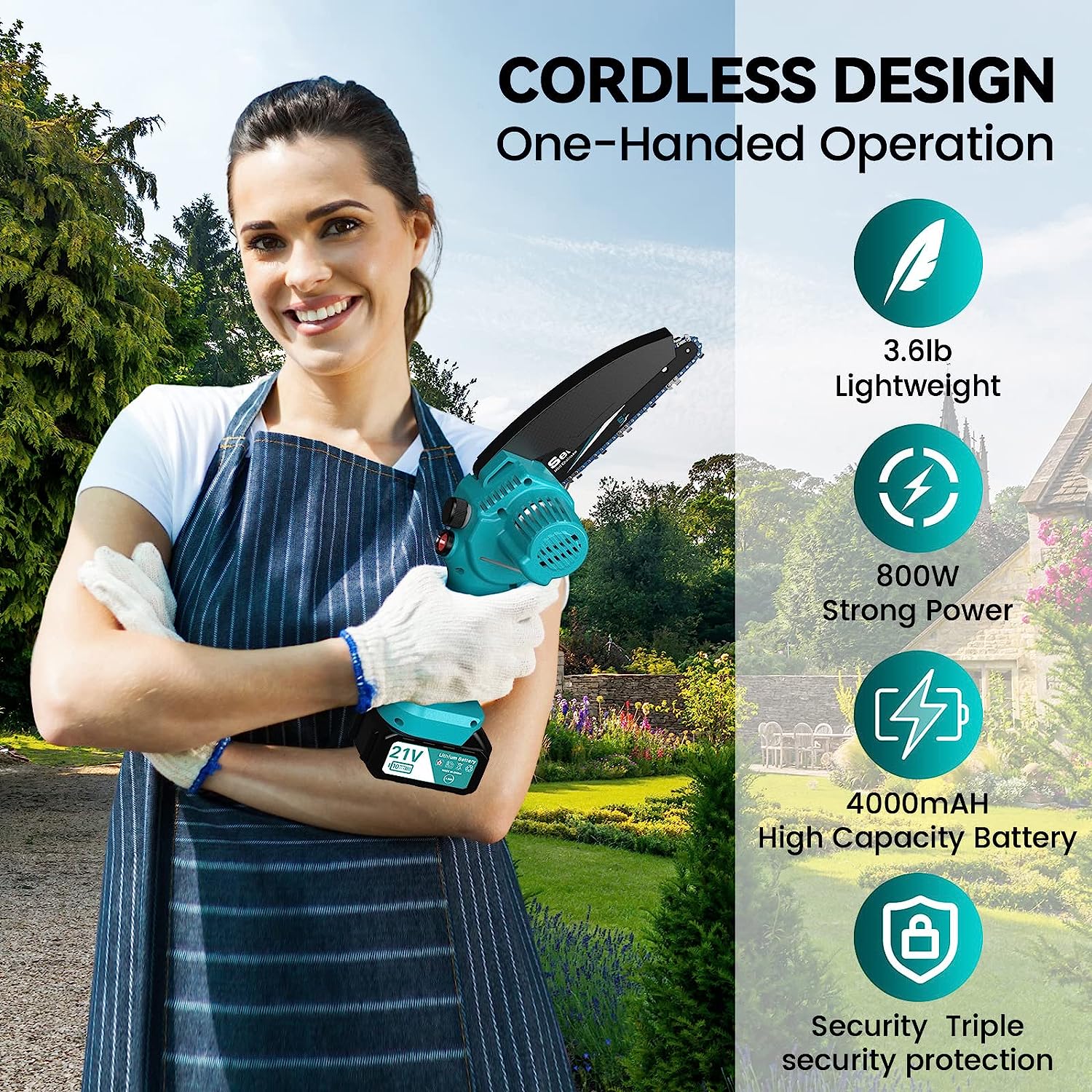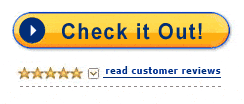 The 4000+4000 mAh Mini Chainsaw Cordless 6 inch by SeeSii is an outstanding cutting tool that offers convenience, efficiency, and safety. With its powerful batteries and fast charger, it provides a runtime of up to 80-100 minutes, while self-overload and temperature protection ensure longer battery life. The chainsaw's deep-hardened chain guide design and pure copper motor enable effortless cutting with minimal pressure, making it highly efficient for various tasks.
Its one-hand use design, lightweight construction, and well-balanced nature allow for safe, accurate, and fatigue-free cutting. The safety lock switch and trigger mechanism ensure secure operation, and the auto lubrication system delivers a steady oil supply for smooth cutting performance. This mini chainsaw operates quietly and produces noise levels of less than 75dB, making it neighbor-friendly. It is also easy to maintain and store, requiring basic chain sharpening and regular bar lube.
The package includes 2 batteries, a suitcase, chains, a charger, gloves, glasses, a guard cover, a user manual, and a screwdriver for added convenience. SeeSii provides excellent after-sales service, offering 24×7 friendly customer support to address any concerns promptly. Overall, the 4000+4000 mAh Mini Chainsaw Cordless 6 inch by SeeSii is a remarkable cutting tool that combines power, efficiency, and safety, making it an excellent choice for various cutting tasks.
5 SINPY Mini Chainsaw Cordless 6 Inch with 2 Battery
Tips for Using a Mini Chainsaw Safely and Effectively:
To ensure a safe and efficient experience with your mini chainsaw, follow these tips:
Proper Safety Gear: Always wear protective gear such as gloves, eyewear, and sturdy footwear when operating a mini chainsaw. This will safeguard you from potential injuries.
Basic Operating Instructions: Read the manufacturer's instructions carefully and familiarize yourself with the operating procedures. Start the chainsaw on a flat surface, hold it firmly, and maintain a stable stance while cutting.
Maintenance and Storage Tips: Regularly inspect and clean your mini chainsaw, paying attention to chain tension, lubrication, and cleanliness. Store it in a dry place, away from moisture and extreme temperatures, to prolong its lifespan.
Conclusion:
In conclusion, choosing the best mini chainsaw for your needs involves considering factors such as power source, bar length, weight, safety features, and overall durability. By understanding the advantages and limitations of mini chainsaws and exploring the top models available in the UK market, you can make an informed decision. Remember to prioritize safety and maintain your mini chainsaw properly for optimal performance. With the right mini chainsaw by your side, you'll be equipped to handle all your gardening and small-scale cutting tasks with ease.